Washington and Columbia River Railway Co. - Stock Certificate
Inv# NP1068
Stock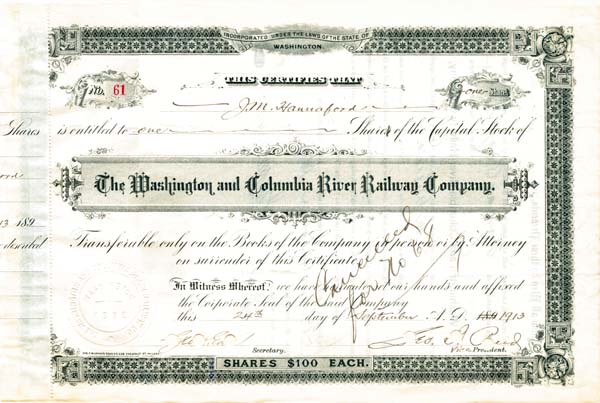 State(s): Washington

Years: 1900's
Stock printed by Wm. F. Murphy's Sons Co, Philad. The Washington and Columbia River Railway started operations in 1892 and stopped service in 1907 for a total period of operations of 15 years. After the Civil War railroads exploded in the US with hundreds of lines starting service all over the country. This was the the age of steam locomotives and rail travel was still a luxury. Washington and Columbia River Railway items from this time period can be very valuable and items of most types that predate 1900 will be valuable if they are in good condition. Many collectors are looking for antique railroadiana that dates before 1900 so there is a strong market for anyone looking to sell. Washington and Columbia River Railway operated routes across 2 states, this is an average amount across most railroads and is typical of small to mid size Eastern Railroads or mid size Western Railroads. Items from railroads of this size tend to be of average rarity so there usually isn't much of a premium price on items from these railroads unless the item is particularly hard to find Washington and Columbia River Railway Operated Routes in the Following States: Oregon, Washington. Also available unissued at a lesser price. Please inquire if interested.
Condition: Excellent
A stock certificate is issued by businesses, usually companies. A stock is part of the permanent finance of a business. Normally, they are never repaid, and the investor can recover his/her money only by selling to another investor. Most stocks, or also called shares, earn dividends, at the business's discretion, depending on how well it has traded. A stockholder or shareholder is a part-owner of the business that issued the stock certificates.
Item ordered may not be exact piece shown. All original and authentic.