United Drug, Incorporated - Stock Certificate
Inv# MP1008
Stock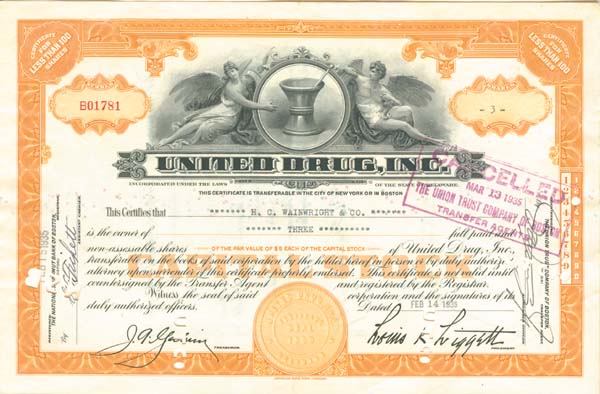 State(s): Delaware

Years: 1935-46
UDG Healthcare plc, formerly United Drug, is a Dublin-based international company and partner to the healthcare industry, providing clinical, commercial, communication and packaging services. It is listed on the London Stock Exchange. It is a constituent of the FTSE 250 Index. The company was established in Ballina in County Mayo as The United Drug Chemical Company, a co-operative controlled by Irish pharmacists, in 1948. UDG bought Leicestershire-based Ashfield commercial and medical services for £12 million in 2000: Ashfield, a contract sales outsourcing firm serving pharmaceutical companies, had 400 employees at the time it was acquired. In January 2007, the company acquired Presearch, a UK laboratory services company, for GBP £2.9 million. It acquired Pharmexx, a Frankfurt-based business, in July 2012. In September 2012 it decided to move its primary listing from Irish Stock Exchange to the London Stock Exchange. It changed its name from United Drug to UDG Healthcare in October 2013. In February 2014, the company made its largest acquisition when it bought KnowledgePoint360 which specializes in healthcare communications for €105 million and made it part of its Ashfield division. In September 2015, UDG Healthcare sold its Irish drug distribution businesses to McKesson Corporation for $466 million. In May 2016 UDG Healthcare acquired Pegasus, an integrated healthcare communications consultancy. In October 2016 the company acquired STEM Marketing, a provider of commercial, marketing and medical audits to pharmaceutical companies. In July 2017, the company acquired Vynamic; later in the same month it acquired Cambridge BioMarketing for up to $35 million. In August 2018, UDG Healthcare announced the sale of its Aquilant division to H2 Equity Partners, a European private equity firm, for a total potential net consideration of up to €23 million (approximately $27 million). (Wikipedia) American Banknote Company. Available in Black or Orange. Please specify color.
A stock certificate is issued by businesses, usually companies. A stock is part of the permanent finance of a business. Normally, they are never repaid, and the investor can recover his/her money only by selling to another investor. Most stocks, or also called shares, earn dividends, at the business's discretion, depending on how well it has traded. A stockholder or shareholder is a part-owner of the business that issued the stock certificates.
Item ordered may not be exact piece shown. All original and authentic.