Summit Branch Rail Road Co. - Pennsylvania Railway Stock Certificate
Inv# RS5289
Stock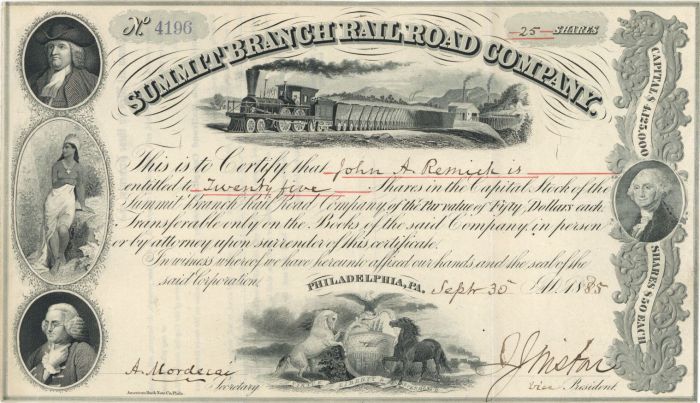 State(s): Pennsylvania

Years: 1885
Stock printed by American Bank Note Co., Phila. Portraits of George Washington, Ben Franklin, etc. Operated from 1846 to 1897.
From abandonedonline.net:
The Williamstown Colliery Tunnel is an abandoned circa 1874 railroad tunnel under Big Lick Mountain in Pennsylvania. The tunnel connected the Summit Branch Railroad to 19 underground coal veins and the vast Bear Valley coal fields.
Condition: Excellent
A stock certificate is issued by businesses, usually companies. A stock is part of the permanent finance of a business. Normally, they are never repaid, and the investor can recover his/her money only by selling to another investor. Most stocks, or also called shares, earn dividends, at the business's discretion, depending on how well it has traded. A stockholder or shareholder is a part-owner of the business that issued the stock certificates.
Item ordered may not be exact piece shown. All original and authentic.