Seattle and San Francisco Railway and Navigation Co. - Washington and California Stock Certificate
Inv# NP1009
Stock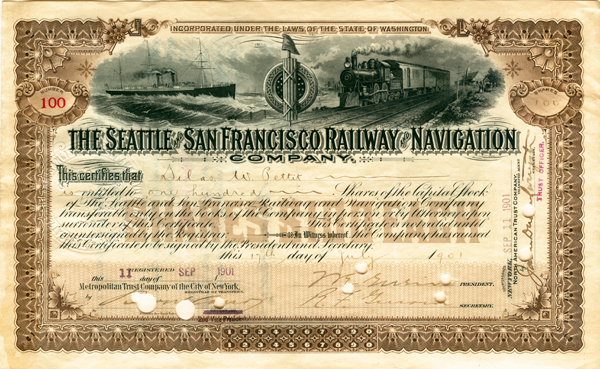 State(s): California
Washington

Years: 1900-1902
Stock printed by Franklin-Lee BankNote Co., N.Y. Chartered in 1899, the company began operations in 1901 carrying coal and other Freight from Seattle to San Francisco, Honolulu, and other Pacific points. The company owned extensive coal fields, docks, and warehouses along the shores of Puget Sound and Elliot Bay. Also available unissued at a lesser price. Please inquire if interested.
Puget Sound is a sound of the Pacific Northwest, an inlet of the Pacific Ocean, and part of the Salish Sea. It is located along the northwestern coast of the U.S. state of Washington. It is a complex estuarine system of interconnected marine waterways and basins, with one major and two minor connections to the open Pacific Ocean via the Strait of Juan de Fuca—Admiralty Inlet being the major connection and Deception Pass and Swinomish Channel being the minor. Read more at https://en.wikipedia.org/wiki/Puget_Sound
Elliott Bay is a part of the Central Basin region of Puget Sound. It is in the U.S. state of Washington, extending southeastward between West Point in the north and Alki Point in the south. Seattle was founded on this body of water in the 1850s and has since grown to encompass it completely. The waterway it provides to the Pacific Ocean has served as a key element of the city's economy, enabling the Port of Seattle to become one of the busiest ports in the United States. Read more at https://en.wikipedia.org/wiki/Elliott_Bay
Condition: Excellent
A stock certificate is issued by businesses, usually companies. A stock is part of the permanent finance of a business. Normally, they are never repaid, and the investor can recover his/her money only by selling to another investor. Most stocks, or also called shares, earn dividends, at the business's discretion, depending on how well it has traded. A stockholder or shareholder is a part-owner of the business that issued the stock certificates.
Item ordered may not be exact piece shown. All original and authentic.