Portland Vancouver and Yakima Railway Co. signed by Louis Gerlinger - Railroad Stock Certificate
Inv# NP1057
Stock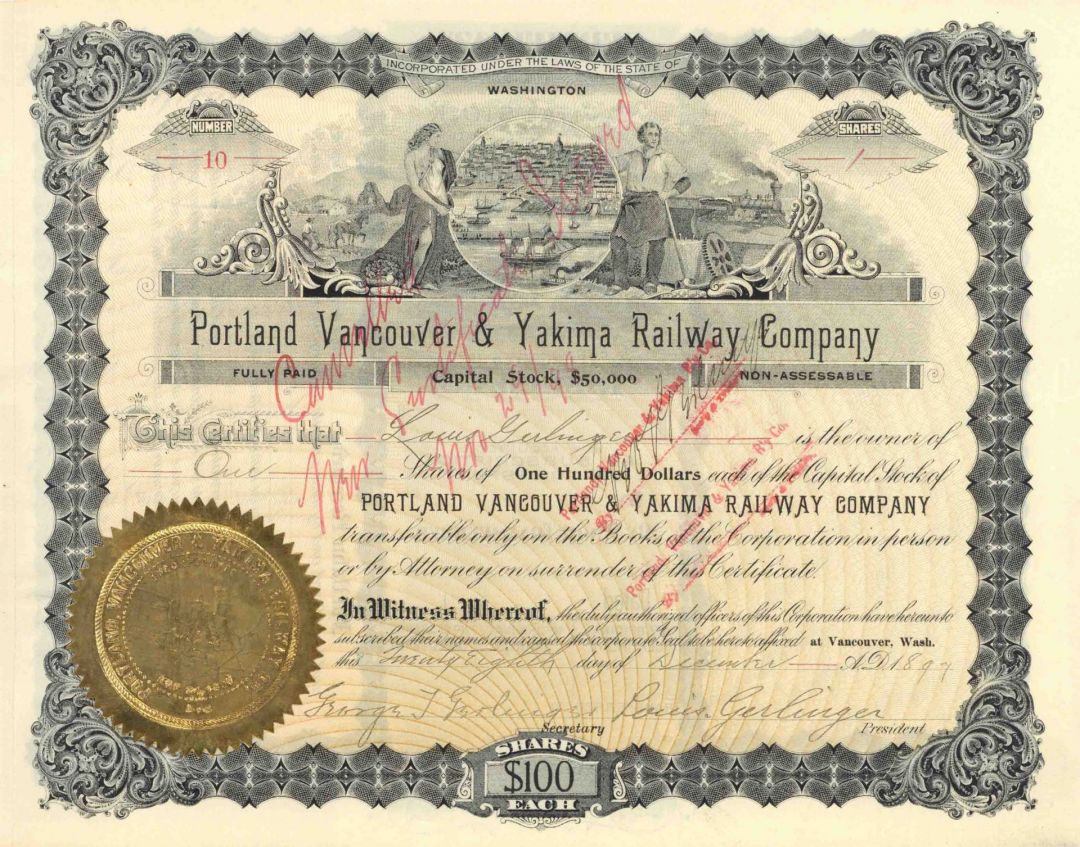 View Larger Image
State(s): Washington

Years: 1897-1901
Stock signed by Louis Gerlinger twice. Also signed by George T. Gerlinger. Both important in the wood pulp business.
The Portland, Vancouver and Yakima Railway started operations in 1897 and stopped service in 1903 for a total period of operations of 6 years. After the Civil War railroads exploded in the US with hundreds of lines starting service all over the country. This was the the age of steam locomotives and rail travel was still a luxury. Portland, Vancouver and Yakima Railway items from this time period can be very valuable and items of most types that predate 1900 will be valuable if they are in good condition. Many collectors are looking for antique railroadiana that dates before 1900 so there is a strong market for anyone looking to sell.
Portland, Vancouver and Yakima Railway only operated in 1 state which is indicative of smaller lines, or in some cases lines in larger states. Many one state railroads are short line railroads that didn't have large areas of coverage or large promotional budgets so items from them are likely to be somewhat rare and could be worth more if the railroad didn't exist for long or if it didn't produce many collectible items. Portland, Vancouver and Yakima Railway Operated Routes in the Following States: Washington. Also available unissued at a lesser price. Please inquire if interested.
The Lewis and Clark Railway (reporting mark LINC) is a county-owned railroad located in Clark County, Washington. The line is 33 miles (53 km) long, beginning at the BNSF interchange at Rye Junction in Vancouver, Washington and stretching northeast, passing through Brush Prairie and Battle Ground to the line's northern end past Yacolt.
Condition: Excellent
A stock certificate is issued by businesses, usually companies. A stock is part of the permanent finance of a business. Normally, they are never repaid, and the investor can recover his/her money only by selling to another investor. Most stocks, or also called shares, earn dividends, at the business's discretion, depending on how well it has traded. A stockholder or shareholder is a part-owner of the business that issued the stock certificates.
Item ordered may not be exact piece shown. All original and authentic.