Oliver Ellsworth signed Revolutionary War Pay Order - 1777 dated Autograph - American Revolution
Inv# AU1714
Autograph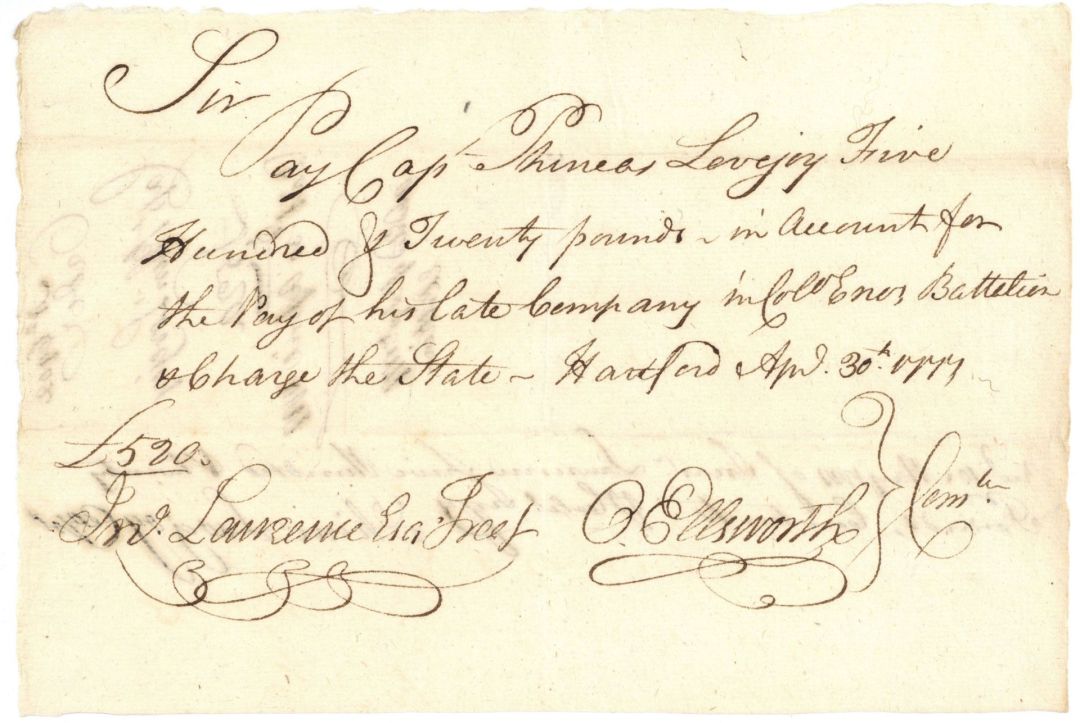 View Larger Image
State(s): Connecticut

Years: 1777
Pay Order issued by the state of Connecticut signed by Oliver Ellsworth.
Oliver Ellsworth (April 29, 1745 – November 26, 1807) was an American lawyer, judge, politician, and diplomat. He was a framer of the United States Constitution, a United States Senator from Connecticut, and the third Chief Justice of the United States. Additionally, Ellsworth received 11 electoral votes in the 1796 presidential election. Born in Windsor, Connecticut, Ellsworth attended the College of New Jersey where he helped found the American Whig–Cliosophic Society. In 1777, he became the state attorney for Hartford County, Connecticut and was selected as a delegate to the Continental Congress, serving during the remainder of the American Revolutionary War. He served as a state judge during the 1780s and was selected as a delegate to the 1787 Philadelphia Convention, which produced the United States Constitution. While at the convention, Ellsworth played a role in fashioning the Connecticut Compromise between the more populous states and the less populous states. He also served on the Committee of Detail, which prepared the first draft of the Constitution, but he left the convention before signing the document.
His influence helped ensure that Connecticut ratified the Constitution, and he was elected as one of Connecticut's inaugural pair of Senators, serving from 1789 to 1796. He was the chief author of the Judiciary Act of 1789, which shaped the federal judiciary of the United States and established the Supreme Court's power to overturn state supreme court decisions that were contrary to the United States Constitution. Ellsworth served as a key Senate ally to Alexander Hamilton and aligned with the Federalist Party. He led the Senate passage of Hamiltonian proposals such as the Funding Act of 1790 and the Bank Bill of 1791. He also advocated in favor of the United States Bill of Rights and the Jay Treaty. Read more at https://en.wikipedia.org/wiki/Oliver_Ellsworth
Condition: Excellent
Item ordered may not be exact piece shown. All original and authentic.