Northern Pacific Railroad Co. issued to and signed by Charles L. Colby
Inv# AG2157
Stock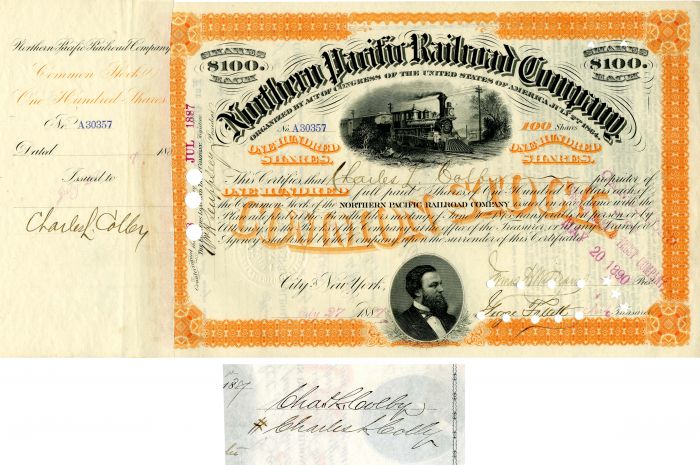 Country: United States

State(s): New York

Years: 1887
Stock issued to and signed on back by Charles L. Colby.
Charles L. Colby, the well-known railroad man, who for many years was a resident of Milwaukee.  Mr. Colby had died suddenly at Newton Center, Mass. Death had resulted from an attack of heart failure which came on after he had finished an address before the Woman's Baptist Foreign Missionary Society, The Silver Anniversary, which was celebrated at the First Baptist Church, Newton Center. Mrs. Gardiner Colby, mother of the deceased, was one of the founders of the society, and the concluding portion of the address delivered was a glowing tribute to her. Mr. Colby had just taken his seat when the attack of heart failure came on. He fell forward as though in a faint, and was immediately carried to the church parlors, where he died within a few minutes. The mail received that morning contained a letter from Mr. Colby. It pertained mainly to business matters, but it concluded with the following statement: "My health is much better than it has been for some time." The home of the Colby's at Boston Highlands was on a farm. His education was completed in 1848, when he graduated from Brown University. Then he became interested in foreign trade which he followed from 1859 to 1870. On formation of Phillips and Colby Construction Co., of which his father was the President Charles was made treasurer of the Co. He, was elected Vice President of the Wis. Central Co., in 1874 and upon the death of his father, Gardiner in 1889, he was President until his resignation March 19, 1890. He always had a warm place in his heart for the villages along the line, and especially the one named Colby.
It was his desire that the Wisconsin and Minnesota branch to Chippewa Falls should form its junction at Colby but it did not take place. It was his desire that as early as the winter of 1879-80, the village should be incorporated, that he might deed the hall to it, and to that end assisted in getting a bill through the legislature, so changing general law as to permit a village located in two separate counties to incorporate. But before the people were prepared to take advantage of the act, it was again changed, which shut Colby out.
Condition: Excellent
A stock certificate is issued by businesses, usually companies. A stock is part of the permanent finance of a business. Normally, they are never repaid, and the investor can recover his/her money only by selling to another investor. Most stocks, or also called shares, earn dividends, at the business's discretion, depending on how well it has traded. A stockholder or shareholder is a part-owner of the business that issued the stock certificates.
Item ordered may not be exact piece shown. All original and authentic.