Nicholson Creek Mining Corporation - Stock Certificate
Inv# MS1401
Stock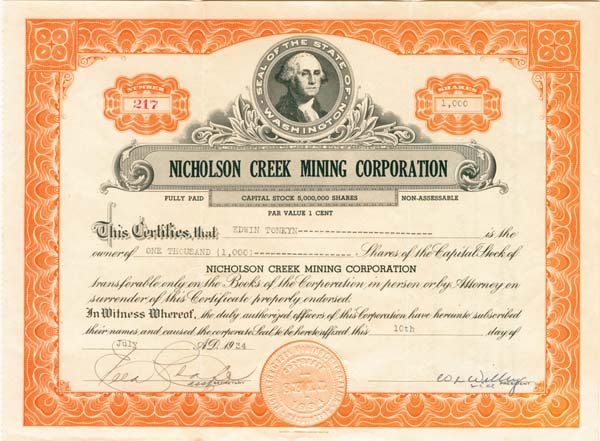 Country: Canada

State(s): British Columbia

Years: 1934-40
Printed by National Lithograph Co., Seattle. Scarce vignette of George Washington. Great! Nicholson Creek Mining Corporation Incorporated in Washington, promoted from Seattle. The company incorporated in 1934 after acquisition of property near Usk which carried copper, gold, silver and molybdenum ores. A series of mining companies had owned and developed these properties, but all had failed.
A stock certificate is issued by businesses, usually companies. A stock is part of the permanent finance of a business. Normally, they are never repaid, and the investor can recover his/her money only by selling to another investor. Most stocks, or also called shares, earn dividends, at the business's discretion, depending on how well it has traded. A stockholder or shareholder is a part-owner of the business that issued the stock certificates.
Item ordered may not be exact piece shown. All original and authentic.