New York and Harlem Railroad - Issued to and signed by the Commodore Cornelius Vanderbilt! - Stock Certificate - SOLD
Inv# AS1301
Stock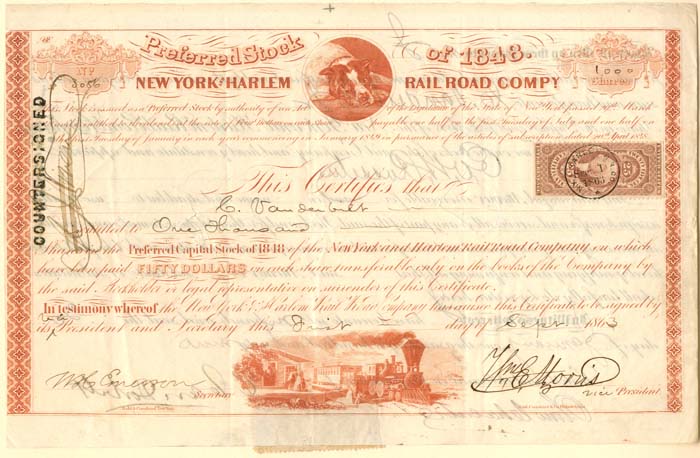 View Larger Image
Years: 1863
Color: Brown
Amazing Piece! New York and Harlem Railroad stock issued to AND signed by The Commodore Cornelius Vanderbilt!!!   
Cornelius Vanderbilt (May 27, 1794 – January 4, 1877), also known informally as "Commodore Vanderbilt", was an American business magnate and philanthropist who built his wealth in railroads and shipping. Born poor and having but a mediocre education, he used perseverance, intelligence and luck to work into leadership positions in the inland water trade, and invest in the rapidly growing railroad industry. He is best known for building the New York Central Railroad. As one of the richest Americans in history and wealthiest figures overall, Vanderbilt was the patriarch of a wealthy, influential family. He provided the initial gift to found Vanderbilt University in Nashville, Tennessee.

Condition: Excellent
A stock certificate is issued by businesses, usually companies. A stock is part of the permanent finance of a business. Normally, they are never repaid, and the investor can recover his/her money only by selling to another investor. Most stocks, or also called shares, earn dividends, at the business's discretion, depending on how well it has traded. A stockholder or shareholder is a part-owner of the business that issued the stock certificates.
Item ordered may not be exact piece shown. All original and authentic.