New York and Harlem Railroad - Railway Bond
Inv# RB5089
Bond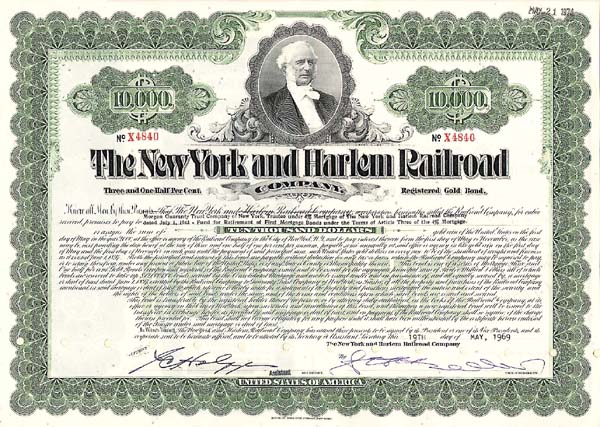 State(s): New York

Years: 1960's-70's
Color: Or, Gr
Railroad Bond. Various Denominations. Portrait of Commodore Cornelius Vanderbilt. Elaborate borders. American Bank Note Co, NY. Great!!
The New York and Harlem Railroad (now the Metro-North Railroad's Harlem Line) was one of the first railroads in the United States, and was the world's first street railway. Designed by John Stephenson, it was opened in stages between 1832 and 1852 between Lower Manhattan to and beyond Harlem. Horses initially pulled railway carriages, followed by a conversion to steam engines, then one to battery-powered Julien electric traction cars. In 1907, the then leaseholders of the line, New York City Railway, a streetcar operator, went into receivership. Following a further receivership in 1932, the New York Railways Corporation converted the line to bus operation. The Murray Hill Tunnel now carries a lane of road traffic, but not the buses.
A bond is a document of title for a loan. Bonds are issued, not only by businesses, but also by national, state or city governments, or other public bodies, or sometimes by individuals. Bonds are a loan to the company or other body. They are normally repayable within a stated period of time. Bonds earn interest at a fixed rate, which must usually be paid by the undertaking regardless of its financial results. A bondholder is a creditor of the undertaking.
Item ordered may not be exact piece shown. All original and authentic.