New York Central Railroad - Bond - SOLD
Inv# RB5137
Bond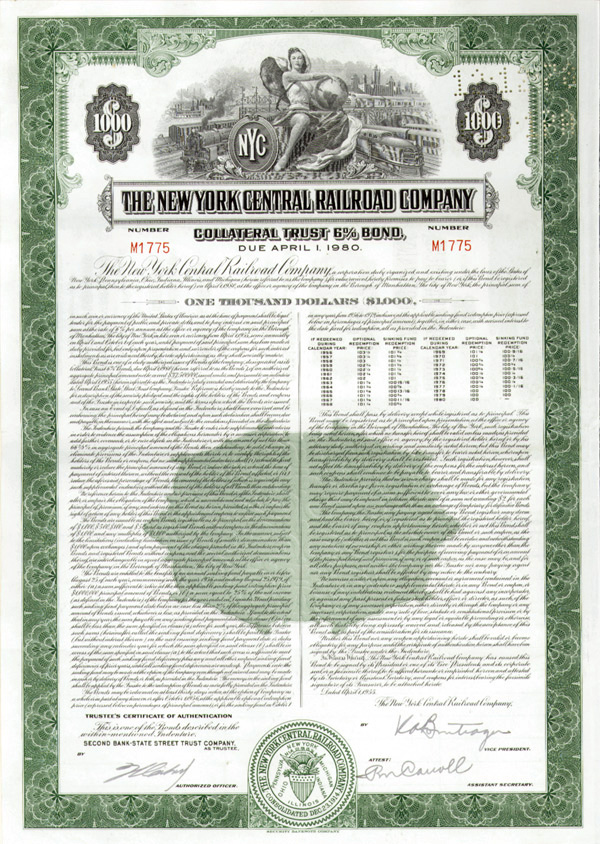 State(s): New York

Years: 1955
Color: Gr
$1,000 Railroad Bond. Female figure holding globe with trains, ship and city in background. The New York Central Railroad (AAR reporting marks NYC), known simply as the New York Central in its publicity, was a railroad operating in the Northeastern United States. Headquartered in New York, the railroad served most of the Northeast, including extensive trackage in the states of New York, Pennsylvania, Ohio, Michigan, Indiana, Illinois and Massachusetts, plus additional trackage in the Canadian provinces of Ontario and Quebec. Its primary connections included Chicago and Boston. The NYC's Grand Central Terminal in New York City is one of its best known extant landmarks. In 1968 the NYC merged with its former rival, the Pennsylvania Railroad, to form Penn Central (the New York, New Haven and Hartford Railroad joined in 1969). That company soon went bankrupt and was taken over by the federal government and merged into Conrail in 1976. Conrail was broken up in 1998, and portions of its system was transferred to the newly-formed New York Central Lines LLC, a subsidiary leased to, and eventually absorbed by CSX. That company's lines included the original New York Central main line, but outside that area it included lines that were never part of the NYC system.
A bond is a document of title for a loan. Bonds are issued, not only by businesses, but also by national, state or city governments, or other public bodies, or sometimes by individuals. Bonds are a loan to the company or other body. They are normally repayable within a stated period of time. Bonds earn interest at a fixed rate, which must usually be paid by the undertaking regardless of its financial results. A bondholder is a creditor of the undertaking.
Item ordered may not be exact piece shown. All original and authentic.