National Railways of Mexico - Ferrocarriles Nacionales De Mexico - 1907 dated Olive 10 Share Mexican Stock Certificate
Inv# FS1104
Stock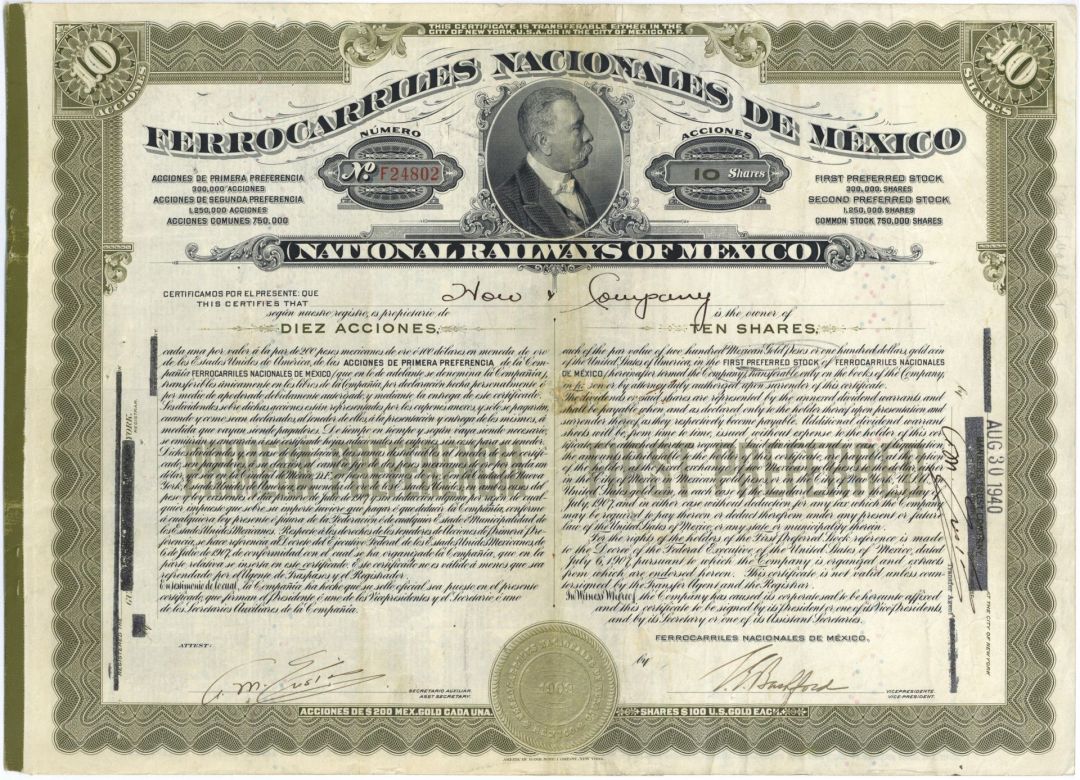 View Larger Image
Country: Mexico

Years: 1907
Color: Olive
American Bank Note-NY. Many coupons with charming vignette of child. Very Scarce!!! Ferrocarriles Nacionales de México (better known as N de M and especially in its final years as FNM) was Mexico's state owned railroad company from 1938 to 1998, and prior to 1938 (dating from the regime of Porfirio Díaz), a major railroad controlled by the government that linked Mexico City to the major cities of Ciudad Juárez, Nuevo Laredo and Matamoros on the U.S. border. The first trains to Nuevo Laredo from Mexico City began operating in 1903. The beginnings of rail transport in Mexico date back to the concessions granted by Maximilian I of Mexico, mostly to foreign companies, and continued by Benito Juárez.
In 1898, José Yves Limantour proposed a system of concessions of the railway companies on the future lines to be built from 1900. That same year the Secretariat of the Treasury promulgated the first General Railway Law. This law established a system whereby concessions would be granted to companies to lay railway lines only when they satisfied the economic needs of the country and linked the interior of the Republic with its most important commercial ports. Read more at https://en.wikipedia.org/wiki/Ferrocarriles_Nacionales_de_M%C3%A9xico
Condition: E.F. with minor flaw
A stock certificate is issued by businesses, usually companies. A stock is part of the permanent finance of a business. Normally, they are never repaid, and the investor can recover his/her money only by selling to another investor. Most stocks, or also called shares, earn dividends, at the business's discretion, depending on how well it has traded. A stockholder or shareholder is a part-owner of the business that issued the stock certificates.
Item ordered may not be exact piece shown. All original and authentic.