Max Baer signed Pennsylvania Railroad Co. Stock Certificate - Famous Boxer Autograph
Inv# AG1637
Stock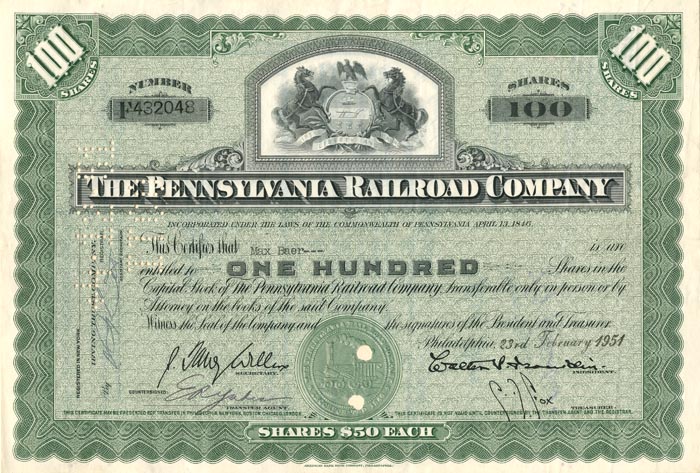 State(s): Pennsylvania

Years: 1951
Color: Green
Issued to Max Baer and signed at back by Max Baer, Boxer. Important Heavyweight Champion of the World beaten by James Braddock "Cinderella Man". Baer killed 2 men in the ring. He was truly great but most controversial. Recently his son, actor "Max Baer Jr" has defended his dad very strongly. He claims he was a good person. Portrait and biography included with stock. Extremely Rare!
Maximilian Adelbert "Max" Baer (February 11, 1909 – November 21, 1959) was an American boxer who was the World Heavyweight Champion from June 14, 1934, to June 13, 1935. His fights were twice (1933 win over Max Schmeling, 1935 loss to James J. Braddock) rated Fight of the Year by The Ring Magazine. Baer was also a boxing referee, and had an occasional role on film or television. He was the brother of heavyweight boxing contender Buddy Baer and father of actor Max Baer Jr.. Baer is rated #22 on Ring Magazine's list of 100 greatest punchers of all time.
There is a park named for Baer in Livermore, California. There is also a park named for him in Sacramento. He was honored by the Bay Area Sports Hall of Fame in 1988.
Baer was an active member of the Fraternal Order of Eagles. When Max died of a heart attack in 1959, the Eagles created a charity fund as a tribute to his memory and as a means of combating the disease that killed him. The Max Baer Heart Fund is primarily to aid in heart research and education. Since the fund started in 1959, millions of dollars have been donated to universities, medical centers and hospitals across the United States and Canada for heart research and education.
In Grant County, West Virginia, there is a road that is named "Max Baer Road"; however, according to Thomas "Duke" Miller, a TV/movie/celebrity expert who resides in that state, there is no evidence anywhere that the Baer family ever had any ties with West Virginia.
Condition: Excellent
A stock certificate is issued by businesses, usually companies. A stock is part of the permanent finance of a business. Normally, they are never repaid, and the investor can recover his/her money only by selling to another investor. Most stocks, or also called shares, earn dividends, at the business's discretion, depending on how well it has traded. A stockholder or shareholder is a part-owner of the business that issued the stock certificates.
Item ordered may not be exact piece shown. All original and authentic.