Legal Document signed by Sam Sloan and Moses Taylor Pyne
Inv# AU1367
State(s): New York

Years: 1881
Legal document and envelope regarding the Delaware, Lackawanna and Western Railroad Company signed by both Sam Sloan and M. Taylor Pyne.
Samuel Sloan (December 25, 1817 – September 22, 1907) was an American politician, businessman and executive. He is most known for his tenure as the president of the Delaware, Lackawanna & Western Railroad (DL&W) for 32 years.
Samuel Sloan was born in Lisburn, County Down, Ireland to William and Elizabeth Sloan and moved to New York when he was one year old. He attended the Columbia College Preparatory school until he was 14, at the time of his father's death. After withdrawing, he became employed at an importing house in New York, eventually becoming the head of the firm.
Sloan was elected as a Supervisor in Kings County (Brooklyn) in 1852, and was president of the Long Island College Hospital. He became a director of the Hudson River Railroad in 1855, left the importing business in 1857 and was elected to the New York State Senate, where he served for two years.
He became a director of the Delaware, Lackawanna & Western Railroad in 1864, and became its president in 1867. Prior to accepting the DL&W Presidency, Sloan had declined an offer to become President of the New York and Harlem Railroad. He extended the DL&W rail lines, and the company achieved great success, in part due to the traffic generated for transport of anthracite coal mined in the railway's expanded territory. Passenger traffic also increased, particularly between New York City and the Pocono Mountains in Pennsylvania, a popular resort area.
Sloan resigned from the DL&W presidency in 1899, but continued as Chairman of the Board. He served on the boards of banks, utilities and other companies.
On April 8, 1844, Sloan married Margaret Elmendorf in New Brunswick, New Jersey, and moved to Brooklyn, New York. Margaret was a daughter of Peter Zabriskie Elmendorf and Maria La Grange (née Van Vechten) Elmendorf. They had eleven children, including:
Peter Elmendorf Sloan (1845–1916), who graduated from West Point in 1865.
Maria LaGrange Sloan (1847–1929), who married Edgar Stirling Auchincloss (1847–1892), parents of U.S. Representative James C. Auchincloss.
Margaret Elmendorf Sloan (1854–1906), who married the Rev. Joseph Rankin Duryee (1853–1935) in 1883.
William Simpson Sloan (1859–1896), who married Julia Rapallo (1862–1935).
Elizabeth LaGrange Sloan (1862–1960), who married Joseph Walker Jr. (1858–1927), senior partner and president of the investment banking firm of Joseph Walker & Sons, in 1887.
Samuel Sloan Jr. (1864–1939), a banker with Farmers' Loan and Trust Company who married Katherine Colt and inherited Oulagisket.
Mary Adelaide Sloan (1868–1954), who married Richard Collins Colt (1863–1938), parents of banker S. Sloan Colt.
Sloan died in Garrison, New York, in 1907 at the age of 89, having been the president of seventeen corporations during his lifetime.
Samuel Sloan is the eponym of the city of Sloan, Iowa and the village of Sloan, New York.
Upon his daughter Margaret's 1883 marriage, he built "Wyndune" in Garrison as a wedding present for them near his own Garrison estate known as Oulagisket (later renamed Lisburne Grange by his son). Similarly, upon his daughter Elizabeth's 1887 marriage, he built "Walker House" in Garrison for them.
A statue memorializing Sloan was placed in Hoboken, New Jersey, originally facing the ferries in 1899. Some people criticized the statue's orientation, and the Mayor of Hoboken remarked that Sloan was "turning his back on the great city of Hoboken." On August 3, 1908, during the reconstruction of Hoboken Terminal, the statue was set facing both the town and the railroad and ferry stations.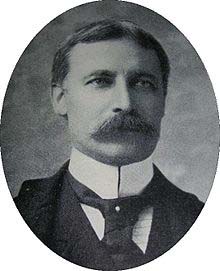 Moses Taylor Pyne (1855-1921) The son of Percy Rivington Pyne and Albertina Shelton Taylor, Pyne was born in New York City in 1855, and graduated from Princeton in 1877. Pyne inherited an enormous fortune from his maternal grandfather and namesake, Moses Taylor who was first president of the First National City Bank of New York and a stockholder in the Delaware, Lackawanna and Western Railroad. Pyne decided early on in his life to dedicate himself to advancing the interests of his alma mater, and in 1884 gained a seat on the Board of Trustees of Princeton at the age of only 28. Settling in the town of Princeton, his beautiful estate, Drumthwacket, is now the official residence of the Governor of New Jersey. Pyne's wealth allowed him to focus on his philanthropy and involvement in civic organizations, and the list of organizations in which he was involved speaks to the extent of his generosity and the breadth of his interests. According to historian William Selden: "Moses Taylor Pyne was a director of four banks, four steel and metal manufacturing companies, one gas company, one insurance company, eight railroads and president of one railroad, two hospitals, two secondary schools, two YMCAs; and a vestryman of four Episcopal churches. He was a member of 25 clubs, twelve of which were Princeton University undergraduate eating clubs, as well as president of the Princeton township governing board, a member of the New Jersey Public Library Commission, the first president of the earlier Princeton Historical Association, and president of the board of the first Princeton Inn which he helped to finance and build in 1891 on part of the original Morven property. In fact, for nearly a quarter of a century no enterprise of importance in Princeton would be started without the assurance of endorsement from Moses Taylor Pyne." However, out of all the organizations with which Moses Taylor Pyne was involved, it was by far Princeton University that received the greatest amount of his time, money and energy. The total amount of money that Pyne gave to Princeton, including the University, its students, faculty, and related institutions, is truly incalculable. "The extent of his financial aid to Princeton has never been disclosed. It was known to be very large but the point was one which he never cared to discuss." He poured an untold amount of money into the general fund, and while Pyne never disclosed how much, "it is known...that for several years he drew his own check to cover the deficit in the university budget." In the words of University president John Hibben, "more than any one man he is responsible for the development of what is now so widely known as the Princeton spirit." Pyne served for 36 years on the Board of Trustees and he did not miss a single meeting. During his last illness, the Trustees voted to name the under-construction dormitory Pyne Hall to honor his services. In addition to the buildings and endowed professorships that bear his name, the University has established in his honor the Moses Taylor Pyne Honor Award, usually referred to as the "Pyne Prize", as the "highest general distinction conferred on an undergrad." Pyne's portrait hangs in Procter Hall of Princeton's Graduate College.
Condition: Excellent
Item ordered may not be exact piece shown. All original and authentic.