Jesse Root, Samuel Wyllys, George Pitkin, Oliver Wolcott Jr Autographed Document
Inv# AG1311
Years: 1787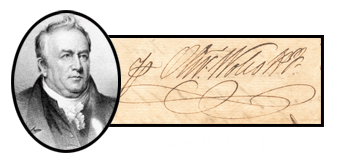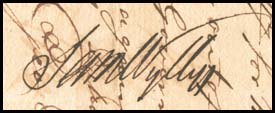 Samuel Wyllys
George Pitkin
Payment Order to the Connecticut State Treasurer for "One Pound Nineteen Shillings & 6 Pence Lawful money – being in part of the Bills of Cost taxed against Thomas Bibbs & David Hillman for Counterfeiting dated at Hartford this 6th Day of March 1787. Signed at front by Geo. Pitkin and Samuel Wyllys and at back by Oliver Wolcott, Jr. and Jesse Root.
An important and interesting document. Excellent Condition.
Jesse Root (December 28, 1736 – March 29, 1822) was an American minister and lawyer from Coventry, Connecticut. During the American Revolution he served on the Connecticut Council of Safety and in the Connecticut militia. Originally appointed as a lieutenant colonel in Peekskill in 1777, he rose to the rank of Adjutant-General of the Connecticut Line. He was a delegate to the Continental Congress for Connecticut from 1778 until 1782, and sat as chief justice of the Connecticut Supreme Court from 1796 to 1807 as well as a state court judge. He served in the Connecticut House of Representatives and served in the Connecticut Constitutional Convention. He was also a member of the First Company, Governor's Foot Guard, serving as its commandant between May 1798 and October 1802.
His grandson was
Austin Cornelius Dunham
.
Oliver Wolcott Jr. (1760 – 1833)
was United States Secretary of the Treasury from 1795 to 1800 and governor of Connecticut from 1817 to 1827.Wolcott was appointed in 1784 as one of the commissioners to mediate claims between the U.S. and the state of Connecticut. After serving as state comptroller of Connecticut from 1788-90, he was named auditor of the federal treasury, and became comptroller of the Treasury in 1791.He was appointed Secretary of the Treasury by George Washington in 1795 to succeed Alexander Hamilton, but resigned in 1800 due to unpopularity, and a particularly vitriolic campaign against him in the press in which, among other things, he was falsely accused of setting fire to the State Department building.1799 as Secretary of the Treasury he designed the United States Civil Flag. From 1803 to 1815 he operated in private business in New York City, afterwards retiring to Litchfield. He was elected governor in 1817 as a "Toleration Republican", following in the footsteps of his father and grandfather, and serving ten years in the post. His tenure was noted for the economic growth and moderate policies that attended it. Additionally, he presided over a convention that created a new state constitution in 1818. Wolcott died in New York City and is interred at East Cemetery in Litchfield. Prior to his death, Wolcott had been the last survivng member of the Washington Cabinet.
Samuel Wyllys
(1739 – 1823)
Connecticut Secretary of State 1796-1810
Son of George Wyllys (sec of state)
2nd Great grandson of George Wyllys (governor)
2nd Great grandson of John Haynes
George Pitkin (1709– 1806)
was a clerk of the superior and supreme courts for many years, was commissioned captain in 1768, lieutenant-colonel in 1774, colonel in 1775, and commanded the 4th regiment of minute-men, with which he marched to Boston on hearing of the battles of Concord and Lexington.
Item ordered may not be exact piece shown. All original and authentic.