James B. Irwin - Astronaut signed check (Uncanceled)
Inv# AG1096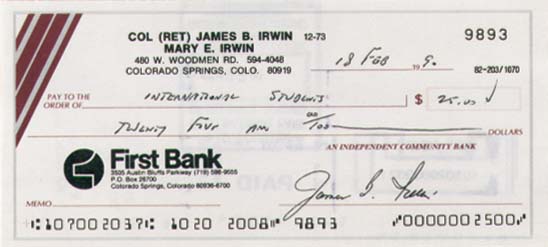 James B. Irwin, Apollo 15 astronauts David R. Scott and James B. Irwin landed their module, Falcon on the moon in the Apennines mountains on July 30, 1971. This was one of six landings between 1972 and 1979. Scott and Irwin were the first astronauts to travel on the moon in a vehicle. Drove 17 miles! This 1990's check has an attractive uncanceled signature of Irwin. He has since passed away. Excellent Condition. Strong demand!
James Benson "Jim" Irwin (March 17, 1930 – August 8, 1991) (Col, USAF) was an American astronaut, aeronautical engineer, test pilot, and a United States Air Force pilot. He served as Apollo Lunar Module pilot for Apollo 15, the fourth human lunar landing. Following his retirement from NASA, he became a prominent born-again Christian.[1] He was the eighth person to walk on the Moon and the first, and youngest, of those astronauts to die.
Item ordered may not be exact piece shown. All original and authentic.