J. Pierpont Morgan Raquette Lake Railway Co.
Inv# AG1408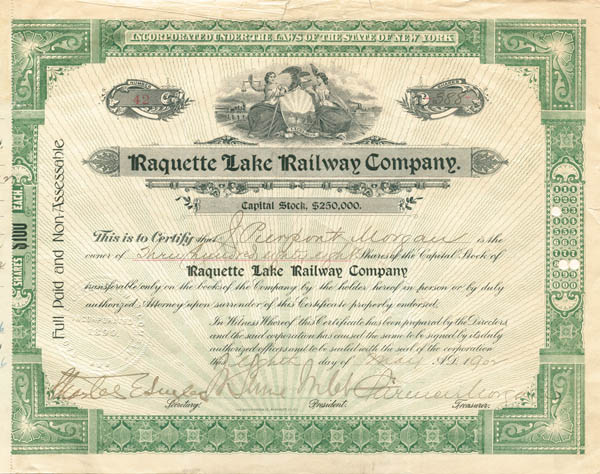 State(s): New York

Years: 1902
J. Pierpont Morgan (1837-1913), Banker, Connoisseur of Art. Son of Junius S. Morgan. Involved in his early years in a broad range of finance, his company, J. P. Morgan & Co. became one of the most powerful banking houses in the world. He engaged in several dubious pieces of business during the Civil War period, but was essentially an organizer and stabilizing force in business. After the failure of Jay Cooke's firm, Morgan's firm became dominant in government financing and in financing railroads. Among his most daring undertakings was the formation of the U. S. Steel Corp. in 1901. Morgan's personal influence was a decisive factor in overcoming the money panic of 1907. This 1902 New York Stock is Issued to J. Pierpont Morgan but not signed. Stub attached at left.
Condition: Excellent
Item ordered may not be exact piece shown. All original and authentic.