Hudson River Railroad Co. Transfer to James J. Roosevelt - Stock Certificate
Inv# AG1908
Stock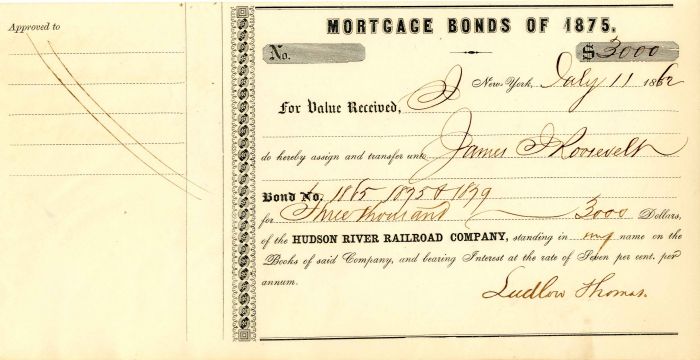 State(s): New York

Years: 1862
Stock transferred to James J. Roosevelt. Known as James I. (December 14, 1795 – April 5, 1875) was an American politician, jurist, businessman, and member of the Roosevelt family.
James I, the Roman numeral was used to distinguish him from others of the same name, was born on December 14, 1795 in New York City to James Jacobus Roosevelt (1759–1840) and Maria Van Schaak (1773–1845) and baptized at the Dutch Reformed Church. He was a great-grandson of Johannes Roosevelt, the founder of the Oyster Bay branch of the Roosevelt family. His brother Cornelius Roosevelt was the father of James A. Roosevelt, Robert Roosevelt, and Theodore Roosevelt, Sr. as well as paternal grandfather of President Theodore Roosevelt. Roosevelt graduated from Columbia College in 1815 and was admitted to the bar in 1818, becoming a partner of Peter Augustus Jay (son of John Jay), with a practice in New York City.
An active Democrat, he campaigned for Andrew Jackson for president in 1828. He was elected alderman in 1828 and 1830, was a member of the New York State Assembly in 1835 and 1840, and served in the United States Congress from 1841 to 1843, but declined to seek reelection. Roosevelt became a justice of the New York Supreme Court in 1851, and during one term was ex officio judge of the State Court of Appeals. From 1860 to 1861, he was the 15th U.S. District Attorney for Southern New York. He studied foreign law in the courts of England, the Netherlands, and France. In business, Roosevelt followed in the tradition of his father as a hardware merchant. He engaged in farming after retiring. He was the first president of Roosevelt Hospital, which was founded by his cousin James H. Roosevelt.
On May 30, 1831 Roosevelt married Cornelia Van Ness (1810–1876) in Paris, the daughter of Governor of Vermont and the Collector of the Port of New York Cornelius P. Van Ness and Rhoda (née Savage) Van Ness, and the niece of William P. Van Ness and John Peter Van Ness. The American Revolution war hero, the Marquis de Lafayette, was among their guests. Among Cornelia's siblings were Marcia Van Ness (wife of British diplomat William Gore Ouseley) and James Van Ness, the Mayor of San Francisco. James and Cornelia were the parents of eleven children, all but three of whom died in childhood or early adulthood.
Condition: Excellent
A stock certificate is issued by businesses, usually companies. A stock is part of the permanent finance of a business. Normally, they are never repaid, and the investor can recover his/her money only by selling to another investor. Most stocks, or also called shares, earn dividends, at the business's discretion, depending on how well it has traded. A stockholder or shareholder is a part-owner of the business that issued the stock certificates.
Item ordered may not be exact piece shown. All original and authentic.