Henry Keep - Michigan Southern and Northern Indiana Railroad - Stock Certificate
Inv# AG1336
Stock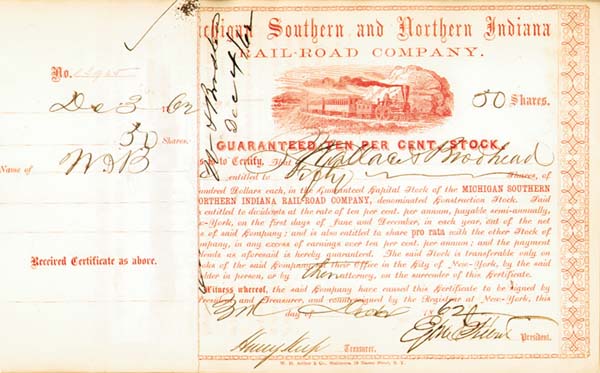 State(s): Indiana
Michigan

Years: 1860's
Henry Keep (1818-1869), Financier. Nice signature at front as Treasurer. Stock, 1860's. From the Syracuse University Collection. Rare!
Henry Keep (June 22, 1818 – July 30, 1869) was an American currency speculator, banker, stock speculator, and railroad financier who invested heavily in the Chicago and North Western Railway, Cleveland and Toledo Railroad, Michigan Southern and Northern Indiana Railroad, and New York Central Railroad. He was treasurer of the Michigan Southern and Northern Indiana Railroad from 1861 to 1863, and briefly president of the New York Central Railroad in 1866. Henry Keep was born on June 22, 1818, in Adams, New York, to Herman Chandler Keep and his wife, Dorothy (née Kent). He had two sisters, Mary and Martha. He was a descendant of John Keep, and emigrant from the Kingdom of England who arrived in the Massachusetts Bay Colony in 1660 and was killed in 1676 during King Philip's War. He was also related to William Ezra Keep, a successful builder in Hartford, Connecticut. Read more at https://en.wikipedia.org/wiki/Henry_Keep_(businessman)
On July 8, 1853, the Ohio and Indiana companies merged, and on February 7, 1855, the Northern Indiana and Chicago Railroad and the Buffalo and Mississippi Railroad were merged into the Northern Indiana Railroad. On April 25, 1855, that company in turn merged with the Michigan Southern Rail Road to form the Michigan Southern and Northern Indiana Railroad. In October 1867, the Cleveland, Painesville and Ashtabula Railroad leased the Cleveland and Toledo Railroad. The CP&A changed its name to the Lake Shore Railway on March 31, 1868, and on February 11, 1869, the Lake Shore absorbed the Cleveland and Toledo. On April 6 the Michigan Southern and Northern Indiana Railroad and Lake Shore merged to form the Lake Shore and Michigan Southern Railway, which absorbed the Buffalo and Erie Railroad on June 22, giving one company the whole route from Buffalo to Chicago. The main route passed through Dunkirk; Erie; Ashtabula, Ohio; Cleveland; Toledo; Waterloo, Indiana; and South Bend. An alternate route (the Sandusky Division) in Ohio ran north of the main line between Elyria and Millbury (not all track was laid until 1872). From Toledo to Elkhart, the Old Road ran to the north, through southern Michigan, and the through route was called the Air Line Division or Northern Indiana Air Line. Along with various branches that had been acquired (see below), the Monroe Branch ran east from Adrian, Michigan, to Monroe, where it intersected the leased Detroit, Monroe and Toledo Railroad. At some point the original line to Toledo was abandoned west of the branch to Jackson, Michigan (Palmyra and Jacksonburgh Railroad), with the new connection at Lenawee Junction, the crossing between that branch and the line to Monroe. Read more at https://en.wikipedia.org/wiki/Lake_Shore_and_Michigan_Southern_Railway
A stock certificate is issued by businesses, usually companies. A stock is part of the permanent finance of a business. Normally, they are never repaid, and the investor can recover his/her money only by selling to another investor. Most stocks, or also called shares, earn dividends, at the business's discretion, depending on how well it has traded. A stockholder or shareholder is a part-owner of the business that issued the stock certificates.
Item ordered may not be exact piece shown. All original and authentic.