General Ambrose E. Burnside - Indianapolis and Vincennes Railroad Co. - Stock Certificate
Inv# CW1010A
Stock
State(s): Indiana
New York

Years: 1869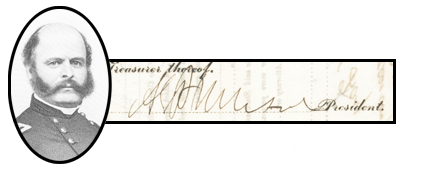 Union General Ambrose Burnside (1824-1881), signs this 1869 stock of the Indianapolis & Vincennes Railroad, Indiana, PASS-CO grade EF. Burnside was an important Union General in the Civil War and later became a U.S. Senator. Washington Revenue. Bold Signature. Excellent Condition. Scarce!

Ambrose Everett Burnside was born in Liberty, Indiana, the fourth of nine children of Scottish origin. His father, a native of South Carolina, was a slave owner who freed his slaves when he relocated to Indiana. Ambrose attended Liberty Seminary as a young boy, but his education was interrupted when his mother died in 1841; he was apprenticed to a local tailor, eventually becoming a partner in the business. His interest in military affairs and his father's political connections obtained an appointment to the United States Military Academy in 1843. He graduated in 1847 and was commissioned a brevet second lieutenant in the 2nd U.S. Artillery. He traveled to Veracruz for the Mexican-American War but arrived after hostilities ceased and performed mostly garrison duty around Mexico City. At the close of the war, Lt. Burnside served two years on the western frontier. In 1849, he was wounded by an arrow in his neck during a skirmish against Apaches in Las Vegas, New Mexico. In 1852, he was appointed to the command of Fort Adams, Newport, R.I., and, while there, he married Mary Richmond Bishop of Providence, R.I. The marriage, which lasted until Burnside's death, was childless. In 1853, Burnside resigned his commission in the U. S. Army, although maintaining a position in the state militia, and devoted his time and energy to the manufacture of the famous rifle that bears his name, the Burnside carbine. The Secretary of War contracted with the Burnside Arms Company to equip a large portion of the Army with his carbine and induced him to establish extensive factories for its manufacture. The Bristol Rifle Works were no sooner complete than another gunmaker allegedly bribed Floyd to break his $100,000 contract with Burnside. He ran as a Democrat for one of the Congressional seats in Rhode Island in 1858 and was defeated in a landslide. The burdens of the campaign and the destruction by fire of his factory contributed to his financial ruin, and he was forced to assign his firearm patents to others. He went west in search of employment and became treasurer of the Illinois Central Railroad, where he worked for, and became friendly with, one of his future commanding officers, George B. McClellan. At the outbreak of the Civil War, Burnside was a brigadier general in the R.I. Militia. He raised a regiment and was appointed its colonel on May 2, 1861. Within a month, he ascended to brigade command in the Department of Northeast Virginia. He commanded the brigade without distinction at the First Battle of Bull Run in July, committing his troops piecemeal, and took over division command temporarily for wounded Brig. Gen. David Hunter. After his 90-day regiment was mustered out of service, he was promoted to brigadier general of volunteers, and was assigned to train provisional brigades in the nascent Army of the Potomac.
Condition: Excellent
A stock certificate is issued by businesses, usually companies. A stock is part of the permanent finance of a business. Normally, they are never repaid, and the investor can recover his/her money only by selling to another investor. Most stocks, or also called shares, earn dividends, at the business's discretion, depending on how well it has traded. A stockholder or shareholder is a part-owner of the business that issued the stock certificates.
Item ordered may not be exact piece shown. All original and authentic.