Fort Worth and Rio Grande Railway Co. Issued to and Sigend by J. Malcolm Forbes
Inv# AG2077
Stock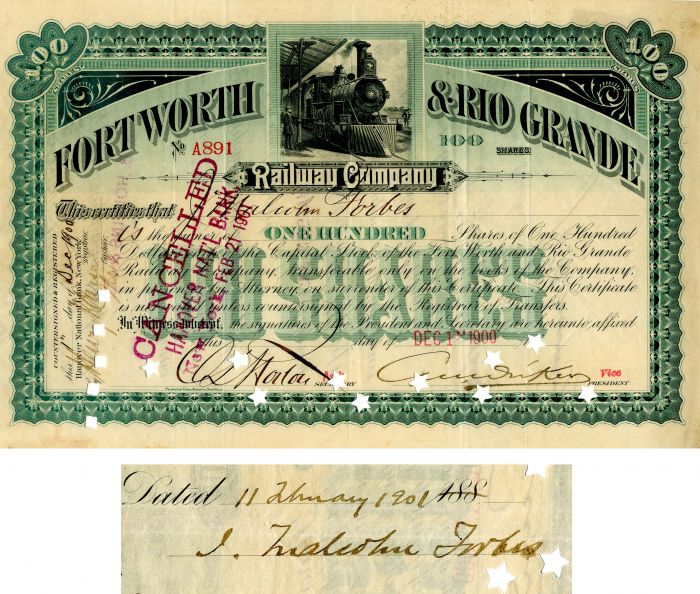 State(s): Texas

Years: 1900
Stock printed by Franklin Bank Note Co., New York. Issued to and signed at back by J. Malcolm Forbes.
John Malcolm Forbes (1847–February 19, 1904 was a businessman and sportsman. He was born in Milton, Massachusetts in 1847 into the wealthy Forbes family of Boston, with his father being John Murray Forbes. He was a prominent yachtsman and breeder of Standardbred horses. Forbes has been described as one of the most important harness racing breeders of all time. In 1890 he purchased Jack, 2:12, for a speedway horse. As his interest grew he established Forbes Farm by buying and consolidating the Hunt, Davenport and Farrington farms. The Farrington farmhouse once stood on the site of the current Prowse residence. He purchased Nancy Hanks for $41,000 and Arion for $125,000. With Arion, Bingen, Nancy Hanks, Peter The Great, and others, Forbes Farm became the outstanding stud farm in the East. Forbes main objective is to improve the quality of the light driving horse, which, before the advent of the automobile, was in great demand throughout the country. Though Forbes never raced a stable, he was an expert on breeding fast horses, until his death in 1904. Forbes made national headlines by paying Senator Leland Stanford of California the enormous sum, at the time, of $125,000 for the stallion Arion. At the time this was highest price ever paid for a horse anywhere in the world. Adding Bingen and Peter the Great, Forbes owned the three fastest trotting stallions. He added the legendary undefeated mare Nancy Hanks, model for the horse and sulky weathervanes one sees today. These horses were inducted into the Standardbred Hall of Fame.
Condition: Excellent
A stock certificate is issued by businesses, usually companies. A stock is part of the permanent finance of a business. Normally, they are never repaid, and the investor can recover his/her money only by selling to another investor. Most stocks, or also called shares, earn dividends, at the business's discretion, depending on how well it has traded. A stockholder or shareholder is a part-owner of the business that issued the stock certificates.
Item ordered may not be exact piece shown. All original and authentic.