Euro Disneyland S.C.A. - Disney Entertainment Stock Certificate - Disneyland Park Paris
Inv# FS1035A
Stock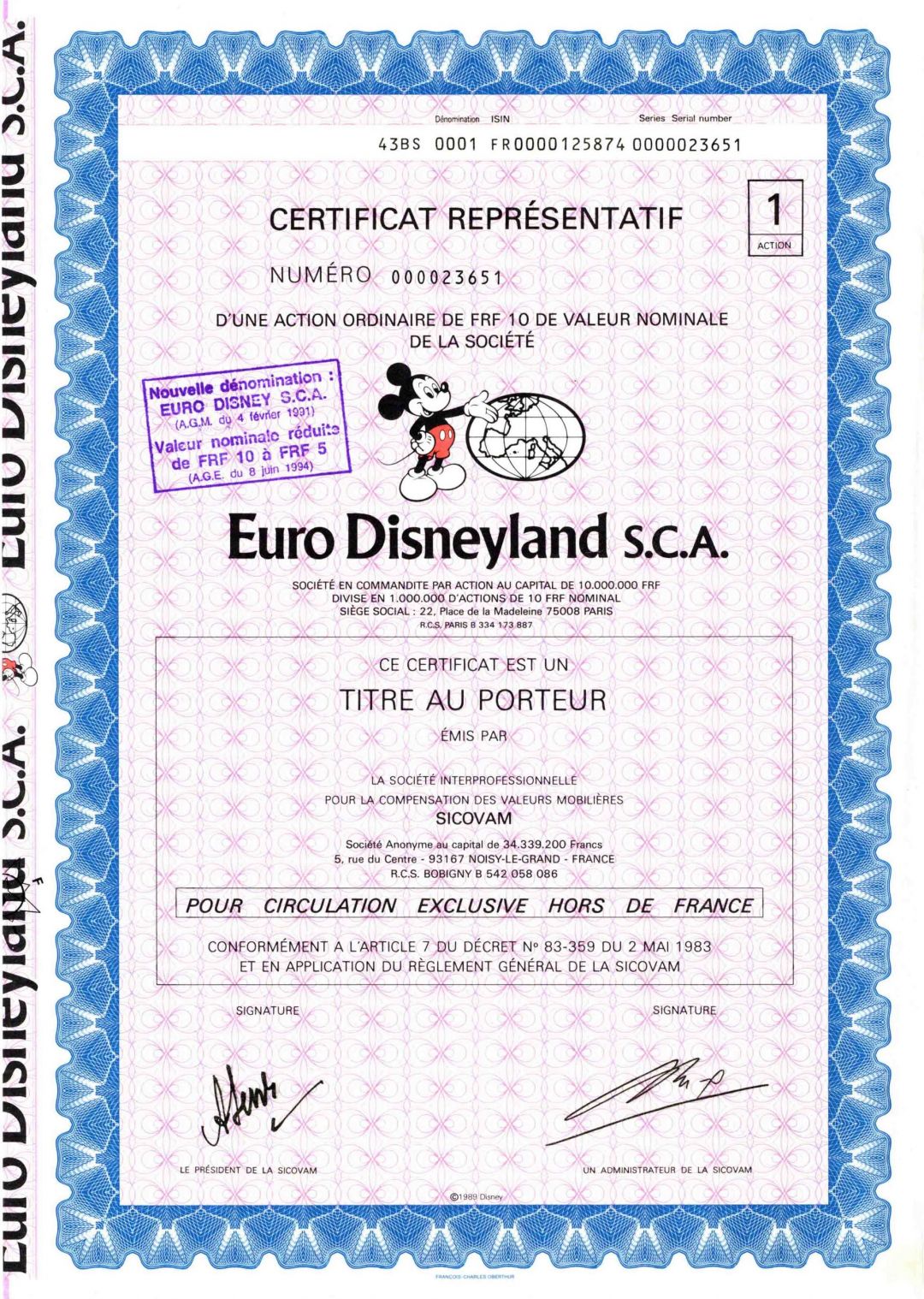 View Larger Image
Country: France

Years: 1983
Color: Blue and Red
Stock with unusual colors of blue & pink. Vignette of 'Mickey Mouse and Globe', has a touch of red.
Disneyland Park, originally Euro Disneyland Park, is a theme park found at Disneyland Paris in Marne-la-Vallée, France. The park opened on 12 April 1992 as the first of the two parks built at the resort. Designed and built by Walt Disney Imagineering, its layout is similar to Disneyland Park in California and Magic Kingdom Park at Walt Disney World in Florida. Spanning 56.656 ha (140 acres)—the second largest Disney park based on the original, after Shanghai Disneyland Park—it is dedicated to fairy tales and Disney characters. In 2016, the park hosted approximately 8.4 million visitors, making it the most-visited theme park in Europe and the 13th-most visited theme park in the world. The park is represented by Le Château de la Belle au Bois Dormant (Sleeping Beauty Castle), a replica of the fairy tale castle seen in Disney's 1959 animated film Sleeping Beauty.
In order to make things more distinct and not be a mere copy of the original, modifications were made to the park's concepts and designs. Among the changes was the change of Tomorrowland to Discoveryland, giving the area a retrofuturistic theme. Other altered elements include the Haunted Mansion, which was redesigned as Phantom Manor and a retro, more intense version of Space Mountain (now Hyperspace Mountain). The park's location brought forth its own challenges. Sleeping Beauty Castle (Le Château de la Belle au Bois Dormant) is said by its designers to have been necessarily reevaluated for a continent on which authentic castles stand. Modifications to the park were made to protect against changes in weather in the Parisian climate. Covered walkways referred to as "arcades" were added, and Michael Eisner ordered the installation of 35 fireplaces in hotels and restaurants. Read more at https://en.wikipedia.org/wiki/Disneyland_Park_(Paris)
Condition: Extremely Fine
A stock certificate is issued by businesses, usually companies. A stock is part of the permanent finance of a business. Normally, they are never repaid, and the investor can recover his/her money only by selling to another investor. Most stocks, or also called shares, earn dividends, at the business's discretion, depending on how well it has traded. A stockholder or shareholder is a part-owner of the business that issued the stock certificates.
Item ordered may not be exact piece shown. All original and authentic.