Don Enrique Mining Co. Issued to B.P. Cheney
Inv# AG2249
Stock
Country: Mexico

State(s): New York

Years: 1891
Stock issued to B.P. Cheney and signed by G.G. Barney as secretary. James C. Fargo of American Express Company fame was involved with this company. Stock printed by American Bank Note Co., New York.
Benjamin Pierce Cheney (August 12, 1815 – July 23, 1895) was an American businessman, and a founder of the firm that became American Express.
Cheney was born in Hillsborough, New Hampshire to Jesse and Alice (Steele) Cheney. The family were descended from John Cheney, who was recorded in Roxbury, Massachusetts, in 1635, moving the following year to Newbury, Massachusetts. John Cheney's brother, William, recorded in Roxbury by 1640, was an ancestor of former Vice President Dick Cheney. He was also evidently kin to the Benjamin Cheney or Cheany of Hartford, Connecticut, from whom John Fitch, the inventor of the steamboat, learned the trade of clocksmith in 1760.
Cheney's father was a blacksmith, and he began working in his father's shop at age 10. At age 12 he began working at a tavern and later a general store in Francestown, New Hampshire. In 1831 he started work as a stagecoach driver between Nashua and Exeter, soon moving to the route between Nashua and Keene. The stage did a brisk business due to the dearth of rail lines at the time. Cheney built relationships with some of his passengers at this time, including Daniel Webster, whose friendship lasted the rest of his life. With a reputation for honesty and reliability, he was frequently entrusted with large sums of money destined for banks on his route. In 1836 he became a stage agent in Boston.
Cheney joined Nathaniel White and William Walker in 1842 to organize an express line between Boston and Montreal. In 1852 Cheney effected his first consolidation when he bought out Fisk & Rice's Express between Boston and Burlington, Vermont. Subsequent consolidations resulted in the organization of the United States & Canada Express Company in 1854.
In 1854, while on his way home from Canada, he lost his right arm in a railway accident.
Cheney was elected a director of Wells Fargo & Company in September 1854 in place of Alpheus Reynolds, who had resigned. He retired from the Wells Fargo board in 1877, but again served as a director from 1882 to the beginning of 1884.
Cheney sold United States & Canada Express in 1879 to American Express, at which time he became the company's largest shareholder as well as treasurer and a director. He remained a large shareholder of Wells Fargo, National Express, and others.
Through his business contacts, Cheney became interested in the Vermont Central Railroad (later the Central Vermont), the Northern Pacific Railroad, the Atchison, Topeka and Santa Fe Railroad, and the San Diego Land and Town Company. He was also the founder and a director of the Market National Bank of Boston and the American Loan and Trust Company.
He helped finance the Northern Pacific and the Atchison, Topeka and Santa Fe, and had much to do with geeting Wells Fargo's express service on both roads. He was a director of the Santa Fe from 1873 to 1894.
When it became evident the railroad was in dire straits, other directors sold their shares. Cheney  refused to take advantage of his inside information and held his shares, suffering a significant personal loss when the railroad went bankrupt in the Panic of 1893 and was reorganized.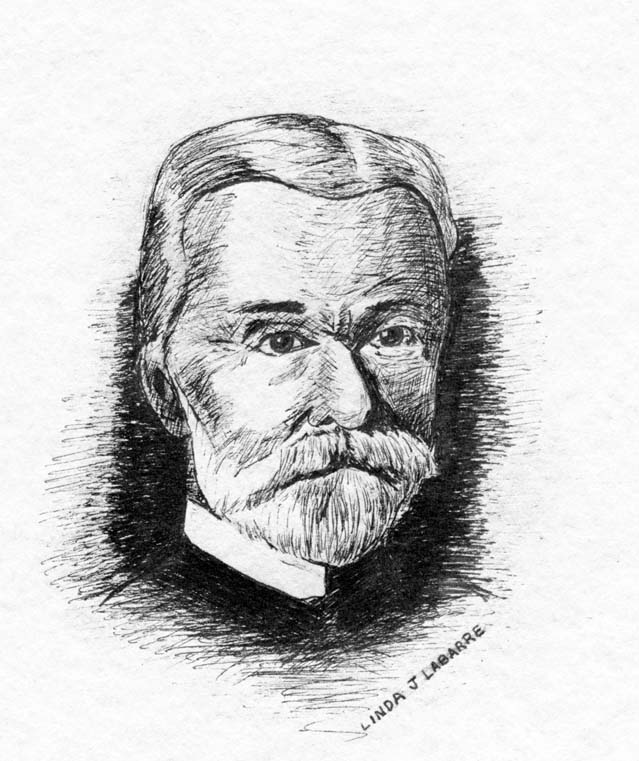 James Congdel Fargo (1829-1915) The son of James Fargo, James Congdel Fargo entered the employ of Wells & Co. (in which his brother, William George Fargo was a partner) at Buffalo in 1844. In 1866 after becoming agent and manager of the firm's successor, the American Express Co., Fargo went to New York as General Superintendent and Manager. In 1881 he became President of the company as well as President of Westcott Express Co. and National Express Co. As president of the American Express Company James C. Fargo was well off and well known. It is not surprising that he felt insulted when he could not get checks cashed during a trip to Europe in 1890. The European bankers were steadfast as Fargo was not known to them, they would not cash his checks. Would Americans always have a cash problem when traveling in Europe?
Marcellus F. Berryn, an employee of the American Express Company set out to find a solution. He wrote later: "There's one thing every person does in a distinctive way. That is writing his signature. Therefore the foolproof device for taking money to strange places must carry the signature of the bearer. It must declare that it will be cashed only when a second, and matching, signature is added before witnesses." On July 7, 1891, Berry was granted four copyrights for what he called "the travelers cheque," and William C. Fargo got the first one. He had no difficulty when he wanted fifty dollars a few weeks later in Leipzig, Germany. In 1891, American Express sold $9,120.00 worth of travelers checks, and the amount has risen every year. During 2000, sales of American Express Travelers Cheques increased to $24.6 billion.
Condition: Excellent
A stock certificate is issued by businesses, usually companies. A stock is part of the permanent finance of a business. Normally, they are never repaid, and the investor can recover his/her money only by selling to another investor. Most stocks, or also called shares, earn dividends, at the business's discretion, depending on how well it has traded. A stockholder or shareholder is a part-owner of the business that issued the stock certificates.
Item ordered may not be exact piece shown. All original and authentic.