Delaware & Raritan & Camden & Amboy Canal Railroad & Transportation Co signed by Robert L. Stevens - Stock Certificate
Inv# RS2318
Stock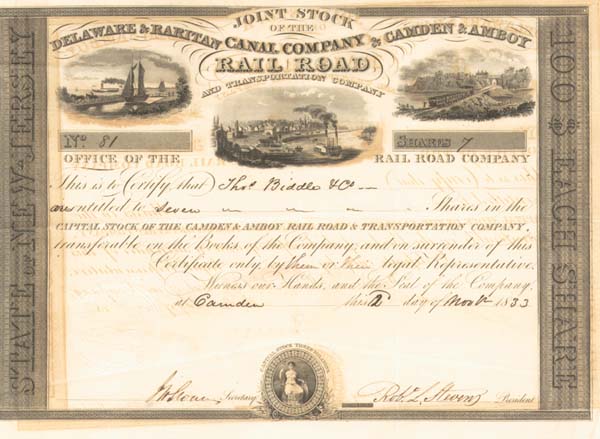 State(s): New Jersey

Years: 1833
Printer-Charles Toppan-Philadelphia, PA. Nicer condition than normally found. Colonel Robert Livingston Stevens (October 18, 1787 – April 20, 1856) was an American inventor and steamship builder who served as president of the Camden and Amboy Railroad in the 1830s and 1840s. Available Uncancelled at price noted or Cancelled Robert Stevens signature at a lesser price. Rare!!!
A stock certificate is issued by businesses, usually companies. A stock is part of the permanent finance of a business. Normally, they are never repaid, and the investor can recover his/her money only by selling to another investor. Most stocks, or also called shares, earn dividends, at the business's discretion, depending on how well it has traded. A stockholder or shareholder is a part-owner of the business that issued the stock certificates.
Item ordered may not be exact piece shown. All original and authentic.