Chicago, Burlington & Quincy Railroad Company issued to various "Forbes" - Stock Certificate
Inv# RS2719A
Stock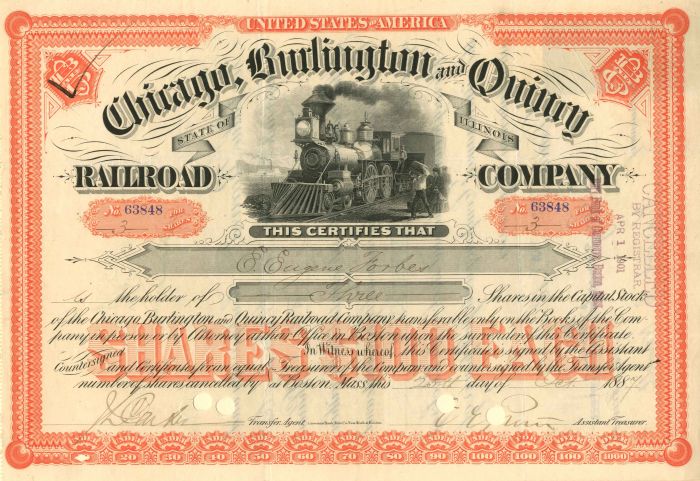 State(s): Illinois

Years: 1885-1899
Color: Orange, Rust or Brown
Stock printed by American Bank Note Co., New York & Boston. Great train vignette! Available in orange issued to E. Eugene Forbes or Mrs. Isadore Forbes, rust issued to Mrs. Isadore Forbes and brown issued to J. Malcom Forbes. All signed on back except for the brown. Please specify color.
The Chicago, Burlington and Quincy Railroad (reporting mark CBQ) was a railroad that operated in the Midwestern United States. Commonly referred to as the Burlington Route, the Burlington or as the Q, it operated extensive trackage in the states of Colorado, Illinois, Iowa, Kansas, Kentucky, Missouri, Montana, Nebraska, Wisconsin, Wyoming, and also in New Mexico and Texas through subsidiaries Colorado and Southern Railway, Fort Worth and Denver Railway, and Burlington-Rock Island Railroad. Its primary connections included Chicago, Minneapolis-St. Paul, St. Louis, Kansas City and Denver. Because of this extensive trackage in the midwest and mountain states, the railroad used the advertising slogans "Everywhere West", "Way of the Zephyrs", and "The Way West". In 1967, it reported 19,565 million net ton-miles of revenue freight and 723 million passenger miles; corresponding totals for C&S were 1,100 and 10 and for FW&D were 1,466 and 13. At the end of the year CB&Q operated 8,538 route-miles, C&S operated 708 and FW&D operated 1362. (These totals may or may not include the former Burlington-Rock Island Railroad.) In 1970, it merged with the Northern Pacific and Great Northern Railroads to form the Burlington Northern Railroad.
Condition: Excellent
A stock certificate is issued by businesses, usually companies. A stock is part of the permanent finance of a business. Normally, they are never repaid, and the investor can recover his/her money only by selling to another investor. Most stocks, or also called shares, earn dividends, at the business's discretion, depending on how well it has traded. A stockholder or shareholder is a part-owner of the business that issued the stock certificates.
Item ordered may not be exact piece shown. All original and authentic.