Check signed by W.E. Roosevelt - Autographed Check
Inv# AU1583
Check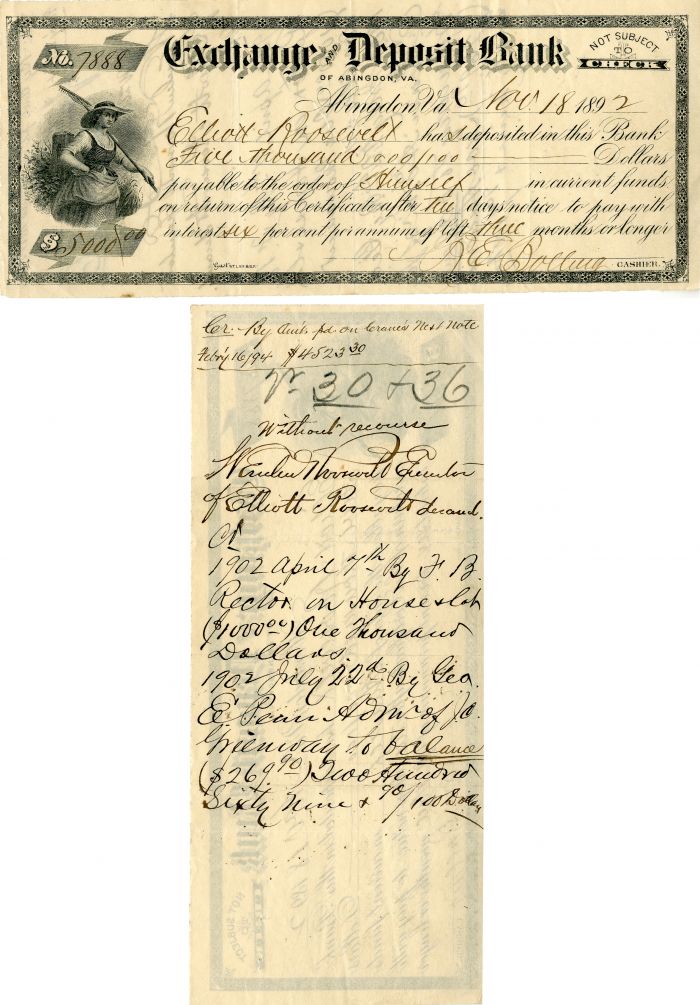 State(s): Virginia

Years: 1892
Check issued to Elliott Roosevelt and signed on back by W.E. Roosevelt for the estate of Elliott Roosevelt.
William Emlen Roosevelt (April 30, 1857 – May 15, 1930) was a prominent New York City banker who held a wide range of positions in numerous organizations and was a cousin of United States President Theodore Roosevelt. He was president of Roosevelt & Son, the banking firm founded by his father James Alfred Roosevelt. William Emlen Roosevelt was born to James Alfred Roosevelt and Elizabeth Norris Emlen.[3] His maternal grandparents were William Fishbourne Emlen (1786–1866) and Mary Parker Norris (1791–1872) and his paternal grandparents were Cornelius Van Schaack Roosevelt (1794–1871) and Margaret Barnhill (1799–1861).
He was director of the Chemical Bank of New York, the Gallatin National Bank, and the Astor National Bank, and later sat on the boards of the Grand Hanover and the Bank of New York. He was president of Roosevelt Hospital, founded by his distant cousin James H. Roosevelt. He was an officer of the National Guard for 16 years, major and quartermaster of the First Brigade. Roosevelt became involved in telecommunications companies, formed the Mexican Telegraph Company and Central and South American Telegraph Company, and was eventually director of the International Telephone and Telegraph Company.
Theodore Roosevelt and he had a very close relationship as cousins. Emlen was not interested in politics other than to support his cousin's bids for public office, and Theodore, busy with conservation advocacy, had little time to attend to financial matters. Thus, "Cousin Emlen" was Theodore's financial adviser before, during and after his presidency.
In 1883, he married Christine Griffin Kean (1858–1936), the sister of John Kean and Hamilton Fish Kean, who both served as United States Senators from New Jersey. They were the parents of:
Christine Kean Roosevelt (1884–1913), who married James Etter Shelley (1871–1936), in 1909.
George Emlen Roosevelt (1887–1963), who married Julia Morris Addison (1888–1937), the sister of James Thayer Addison in 1914. After her death, he married Mildred Cobb Rich (1895–1979).
Lucy Margaret Roosevelt (1888–1914), who died of typhoid after a trip in South America.
John Kean Roosevelt (1889–1974), who married Elise Annette Weinacht (1896–1972) in 1916.
Philip James Roosevelt (1892–1941), who married his cousin, Jean S. Roosevelt, the daughter of John Ellis Roosevelt, in 1925.
He also owned the James Alfred Roosevelt Estate at Cove Neck in Nassau County, New York.
Emlen, together with Christine Roosevelt, donated land to establish the Theodore Roosevelt Sanctuary and Audubon Center in Oyster Bay, New York in 1923.
Roosevelt died at his home, 804 Fifth Avenue in New York City, on May 15, 1930 at the age of 73. His funeral was held at St. Thomas' Church.
Elliott Roosevelt (September 23, 1910 – October 27, 1990) was an American aviation official and wartime officer in the United States Army Air Forces, reaching the rank of brigadier general. He was a son of President Franklin D. Roosevelt and First Lady Eleanor Roosevelt.
As a reconnaissance commander, Roosevelt pioneered new techniques in night photography and meteorological data-gathering, but his claims to a distinguished record on combat missions have been largely discounted.
After the war ended, he faced an investigation by the United States Congress on charges of corruption, including accusations that he had recommended the purchase of the experimental Hughes XF-11 reconnaissance aircraft ahead of a Lockheed model that was believed to be superior. Ultimately, he was found blameless.
Roosevelt published a book about his attendance at several major Allied war conferences and a controversial exposé of his parents' private life. He also wrote 22 mystery novels. His career also embraced broadcasting, ranching, politics and business. He served as the 24th mayor of Miami Beach, Florida from 1965 to 1967.
Roosevelt had always been interested in flight, and in 1933 he briefly served as general manager of Gilpin Airlines of Glendale, California, a small airline owned by Rep. Isabella Greenway (D-AZ), a close friend of the family. Later that year he became aviation editor for the William Randolph Hearst newspapers. After controversial involvement in the Air Mail Scandal and a secret attempt to sell bombers in civilian disguise to the USSR, he was hired as vice president of the Aeronautical Chamber of Commerce (see Aerospace Industries Association), a post he held until 1935. That year, he moved to Fort Worth, Texas and became involved in broadcasting and farming.
Roosevelt received a captain's commission in the United States Army Air Corps on 23 September 1940, his 30th birthday. His appointment in the middle of the 1940 election campaign caused a furious political row, although General Henry H. Arnold, the Chief of the Air Corps, asserted that there was no pressure or nepotism involved. After brief service at Wright Field, Ohio, he took an intelligence course and served with the 21st Reconnaissance Squadron at the new U.S. facility in Gander, Newfoundland.
In the summer of 1941, Roosevelt searched for and located air base sites in Labrador, Baffin Island, and Greenland and reported on conditions in Iceland and along the rest of the embryonic North Atlantic ferry route. During this time, he coordinated closely with FDR, Prime Minister Winston Churchill, and General Arnold. Elliott Roosevelt was the first to interest Churchill in American bases in Africa (first, Bathurst in the Gambia, now Banjul), a step for which his father was not yet ready. He served as a procurement specialist, navigator, and intelligence and reconnaissance officer and rose to brigadier general by January 1945. Despite having poor eyesight and being classified 4-F (unfit), he also became a pilot and reportedly flew 89 combat missions by the time of his inactivation from the United States Army Air Forces (USAAF) in August 1945.
While Roosevelt operated from Gander in August 1941, FDR detached him and brother Franklin Jr. to attend the Argentia (Atlantic Charter) summit between Churchill and FDR, which was nearby. In January 1943, Roosevelt accompanied FDR as a military attaché to the Casablanca meeting and the subsequent Cairo and Tehran Conferences in November–December 1943. At a dinner during the Tehran Conference, Joseph Stalin proposed to round up and shoot some 50,000 German officers and technicians after the war in order to permanently incapacitate Germany.[4] Roosevelt spoke in favor of the proposal which earned him Stalin's cheers and the vocal and lasting hostility of Churchill who said "I would rather be taken out into the garden here and now and be shot myself".
Following a navigator/bombardier course in the fall of 1941 and a brief stint on antisubmarine patrol duty with the 6th Reconnaissance Squadron at Muroc AAB, Roosevelt received a top-secret assignment to carry out clandestine reconnaissance flights over the Sahara Desert, with emphasis on French West Africa, with which the United States was not at war. Having been successful with this (Project Rusty), he was given command of the new 3d Reconnaissance Group at Colorado Springs. From Gibraltar and then Oran, Algeria, he led this unit in Operation Torch, the invasion of Northwest Africa in early November 1942. Roosevelt (with a pilot) flew the first U.S. reconnaissance missions over the theater in a borrowed RAF de Havilland Mosquito. This led to a long campaign for the U.S. adoption of this British aircraft, as Roosevelt held the American counterparts (modified Boeing B-17Cs and early Lockheed P-38s) to be inadequate and unlikely to survive in contested airspace.
From Maison Blanche, Algeria, and after the fall of Tunis, La Marsa near ancient Carthage, Roosevelt pioneered new tactics, including night aerial photography and obtained before and after imagery of Rome during that city's first heavy bombing on 19 July 1943.
After his detachment to investigate reconnaissance issues in the United States (see the Hughes scandal section below), Roosevelt received command of the 8th Air Force's reconnaissance wing in England: the 8th Provisional RW, later renamed the 325th Reconnaissance Wing. During this period, Roosevelt worked on the shuttle-bombing project with the USSR, and participated in the May 1944 mission to the USSR which inspected the new American bases at Poltava, Mirgorod, and Piryatin. His units also supported the D-Day invasion of Normandy and the bombing campaign against V-weapon sites.
Following threats of resignation and pressure from "very high topside," in January 1945 General Arnold ordered General Carl Spaatz in England to appoint Roosevelt a rated pilot, and the president submitted his son's name to the Senate for promotion to brigadier general. By standard rules, Roosevelt was eligible for the rank, but not for the pilot's wings. Roosevelt continued in that rank in Europe until his father's death on April 12, 1945. After VE-Day, the Air Forces could no longer find a "suitable vacancy" for him, and he was on leave and had staff duties in the United States. By coincidence, his last day of service was VJ-Day.
Condition: Excellent
Item ordered may not be exact piece shown. All original and authentic.