Check signed by Rob Reiner
Inv# AU1466
Check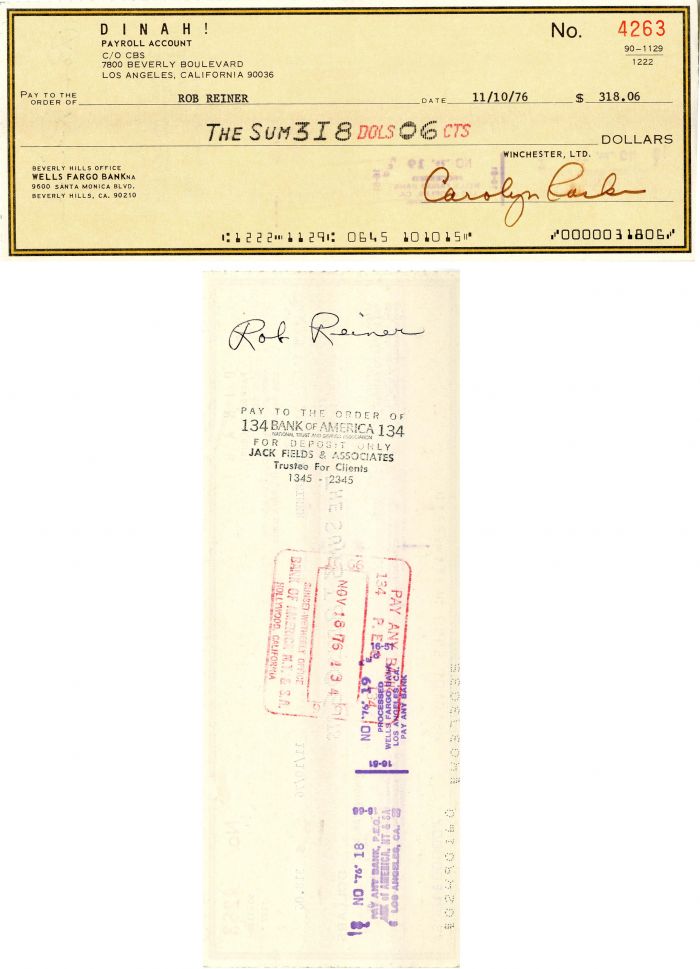 State(s): California

Years: 1976
Check issued to and signed on back by actor, Rob Reiner.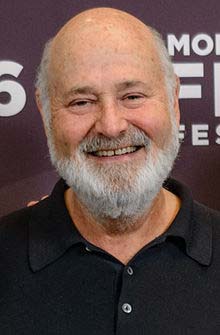 Robert Reiner (born March 6, 1947) is an American actor, comedian, and filmmaker. As an actor, Reiner first came to national prominence with the role of Michael Stivic on All in the Family (1971–1979), a role that earned him two Emmy Awards during the 1970s. As a director, Reiner was recognized by the Directors Guild of America (DGA) with nominations for the coming of age drama film Stand by Me (1986), the romantic comedy When Harry Met Sally... (1989), and the military courtroom drama A Few Good Men (1992). He also directed the psychological horror-thriller Misery (1990), the romantic comedy fantasy adventure The Princess Bride (1987), and the heavy metal mockumentary This Is Spinal Tap (1984). In the late 1960s, Reiner acted in bit roles in several television shows including Batman, The Andy Griffith Show, Room 222, Gomer Pyle, U.S.M.C. and The Beverly Hillbillies. He began his career writing for the Smothers Brothers Comedy Hour in 1968 and 1969, with Steve Martin as his writing partner as the two youngest writers on the show. Two years later, Reiner became famous playing Michael Stivic, Archie Bunker's liberal son-in-law, on Norman Lear's 1970s situation comedy All in the Family, which was the most-watched television program in the United States for five seasons (1971–1976). The character's nickname, Meathead, became closely associated with him, even after he had left the role and went on to build a career as a director. Reiner has stated, "I could win the Nobel Prize and they'd write 'Meathead wins the Nobel Prize'." For his performance, Reiner won two Emmy Awards in addition to three other nominations and five Golden Globe nominations. After an extended absence, Reiner returned to television acting with a recurring role on New Girl (2012–2018). In 1972, Reiner, Phil Mishkin, and Gerry Isenberg created the situation comedy The Super for ABC. Starring Richard S. Castellano, the show depicted the life of the harried Italian American superintendent of a New York City apartment building and ran for 10 episodes in the summer of 1972. Reiner and Mishkin co-wrote the premiere episode. Beginning in the 1980s, Reiner became known as a director of several successful Hollywood films that spanned many different genres. Some of his earlier films include cult classics such as the rock-band mockumentary This Is Spinal Tap (1984) and the comedic fantasy film The Princess Bride (1987), as well as his period piece coming of age tale Stand by Me (1986). He often collaborates with film editor Robert Leighton, whom he also shares with fellow director-actor Christopher Guest as their go-to editor. Reiner has gone on to direct other critically and commercially successful films with his own company, Castle Rock Entertainment. These include the romantic comedy When Harry Met Sally... (1989), which has been critically ranked among the all-time best of its genre,[5] the tense thriller Misery (1990), for which Kathy Bates won the Academy Award for Best Actress, and his most commercially successful work, the military courtroom drama A Few Good Men (1992), which was nominated for the Academy Award for Best Picture. Subsequent films directed by Reiner include the political romance The American President (1995), the courtroom drama Ghosts of Mississippi (1996), and the uplifting comedy The Bucket List (2007). Reiner has continued to act in supporting roles in a number of movies and television shows, including Throw Momma from the Train (1987), Sleepless in Seattle (1993), Bullets Over Broadway (1994), The First Wives Club (1996), Primary Colors (1998), EDtv (1999), New Girl (2012–2018), and The Wolf of Wall Street (2013). He has also parodied himself with cameos in works such as Dickie Roberts: Former Child Star (2003) and 30 Rock (2010).
Condition: Excellent
Item ordered may not be exact piece shown. All original and authentic.