Boston & Providence Rail Road Corp. Issued to John M. Forbes - 1841 dated Autograph Stock Certificate
Inv# AG2040
Stock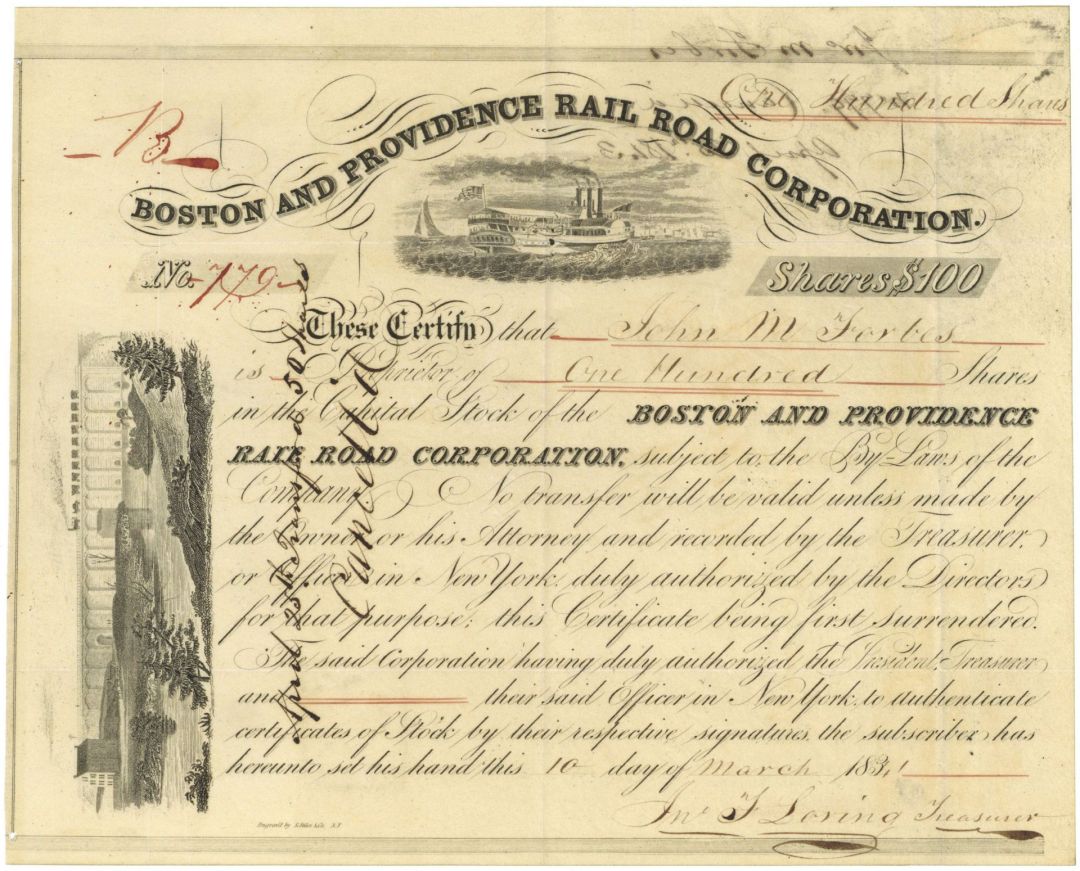 View Larger Image
State(s): Massachusetts

Years: 1841
Stock Issued to but not signed by John M. Forbes. John Murray Forbes (February 23, 1813 – October 12, 1898) was an American railroad magnate, merchant, philanthropist and abolitionist. He was president of both the Michigan Central railroad and the Chicago, Burlington and Quincy Railroad in the 1850s. He kept doing business with Russell & Company. Forbes was born on February 23, 1813, in Bordeaux, France. His father, Ralph Bennett Forbes, was a member of the Forbes family, descended from Scottish immigrants who attempted unsuccessfully to start a trade from Bordeaux.
His mother, Margaret Perkins, was a member of the Boston Brahmin Perkins family merchant dynasty involved in the China trade. Among his siblings was older brother was Robert Bennet Forbes, sea captain and China merchant. His paternal uncle was John Murray Forbes, lawyer and diplomat, and his maternal uncle was merchant Thomas Handasyd Perkins. Among his cousins was the botanist Francis Blackwell Forbes. In 1814, his parents moved back to the Captain Robert Bennet Forbes House in Milton, Massachusetts. Forbes attended school at Phillips Academy in Andover, Massachusetts, then at Round Hill School in Northampton, Massachusetts, from 1823 to 1828. Read more at https://en.wikipedia.org/wiki/John_Murray_Forbes
The Boston and Providence Railroad was a railroad company in the states of Massachusetts and Rhode Island which connected its namesake cities. It opened in two sections in 1834 and 1835 - one of the first rail lines in the United States - with a more direct route into Providence built in 1847. Branches were built to Dedham in 1834, Stoughton in 1845, and North Attleboro in 1871. It was acquired by the Old Colony Railroad in 1888, which in turn was leased by the New Haven Railroad in 1893. The line became the New Haven's primary mainline to Boston; it was realigned in Boston in 1899 during the construction of South Station, and in Pawtucket and Central Falls in 1916 for grade crossing elimination. Read more at https://en.wikipedia.org/wiki/Boston_and_Providence_Railroad
Condition: Excellent
A stock certificate is issued by businesses, usually companies. A stock is part of the permanent finance of a business. Normally, they are never repaid, and the investor can recover his/her money only by selling to another investor. Most stocks, or also called shares, earn dividends, at the business's discretion, depending on how well it has traded. A stockholder or shareholder is a part-owner of the business that issued the stock certificates.
Item ordered may not be exact piece shown. All original and authentic.