Avery Brundage - Boston & Maine Railroad
Inv# AG1066
Stock
State(s): Maine
Massachusetts

Years: 1940's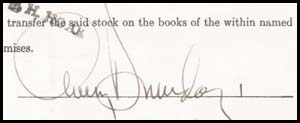 Avery Brundage (1887-1975), Businessman, Sportsman, and Sports Figure. Excellent in sports, he won a place on the US Olympic Team in 1912 and captured the title of amateur all-around champion of America in 1914, 1916, and 1918. In 1915, he became president of the Avery Brundage Company, a construction company. He amassed a fortune through the company and other enterprises. Over the years he held high positions in many athletic organizations and became President of the International Olympic Committee in 1952 and retired in 1972. He became known throughout the world for his dedication. His devotion to collecting oriental art was well known and he gave a huge college valued at $30 Million to the De Young Memorial Museum in San Francisco. This attractive Boston and Maine Railroad stock is dated in the early 1940's during the war and issued to Brundage. Has a large uncancelled signature on a separate transfer document. Both Excellent Condition. Rare!
A stock certificate is issued by businesses, usually companies. A stock is part of the permanent finance of a business. Normally, they are never repaid, and the investor can recover his/her money only by selling to another investor. Most stocks, or also called shares, earn dividends, at the business's discretion, depending on how well it has traded. A stockholder or shareholder is a part-owner of the business that issued the stock certificates.
Item ordered may not be exact piece shown. All original and authentic.