August Belmont signed Exchange Receipt dated 1845 - Autograph
Inv# AU1157
Autograph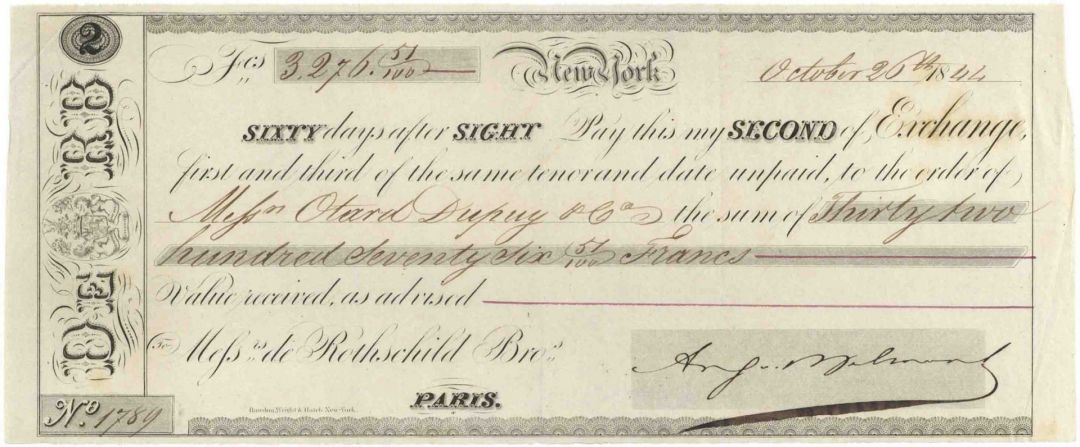 View Larger Image
Country: France

State(s): New York

Years: 1845
August Belmont signed Exchange Receipt. August Belmont Sr. (born August Schönberg; December 8, 1813 – November 24, 1890) was a German-American financier, diplomat, politician and party chairman of the Democratic National Committee, and also a horse-breeder and racehorse owner. He was the founder and namesake of the Belmont Stakes, third leg of the Triple Crown series of American Thoroughbred horse racing.
In the financial/economic recession and Panic of 1837, hundreds of American businesses, including the Rothschild family's American agent in New York City, collapsed. As a result, Belmont postponed his departure for Havana indefinitely and began a new firm, August Belmont & Company, believing that he could supplant the recently bankrupt firm, the American Agency. August Belmont & Company was an instant success, and Belmont restored health to the Rothschilds' U.S. interests over the next five years. Belmont, New Hampshire, is named in his honor, an honor he never acknowledged. The Liberty ship SS August Belmont was named in his honor. Read more at https://en.wikipedia.org/wiki/August_Belmont
Condition: Excellent
Item ordered may not be exact piece shown. All original and authentic.