Al Capp signed Letters and Cartoon Strip - Americana
Inv# AM1892

View Larger Image
State(s): Illinois

Years: 1957 & 1958
2 Typed letters signed by Al Capp. Click on "View Larger Image" to see cartoon strip by Al Capp.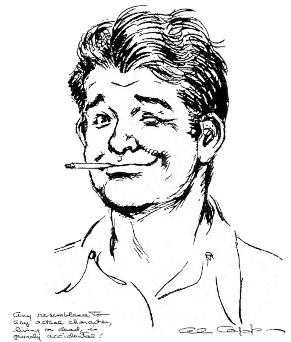 Alfred Gerald Caplan (September 28, 1909 – November 5, 1979), better known as Al Capp, was an American cartoonist and humorist best known for the satirical comic strip Li'l Abner, which he created in 1934 and continued writing and (with help from assistants) drawing until 1977. He also wrote the comic strips Abbie an' Slats (in the years 1937–45) and Long Sam (1954). He won the National Cartoonists Society's Reuben Award in 1947 for Cartoonist of the Year, and their 1979 Elzie Segar Award, posthumously for his "unique and outstanding contribution to the profession of cartooning". Comic strips dealt with urban experiences in the northern states of the USA until the year Capp introduced "Li'l Abner". Although Capp was from Connecticut, he spent 43 years teaching the world about Dogpatch, reaching an estimated 60 million readers in more than 900 American newspapers and 100 more papers in 28 countries internationally. M. Thomas Inge says Capp made a large personal fortune through the strip and "had a profound influence on the way the world viewed the American South".
Condition: Excellent
Item ordered may not be exact piece shown. All original and authentic.