1791-92 dated Andrew Kingsbury signed Payment Note - Post American Revolutionary War
Inv# CT1003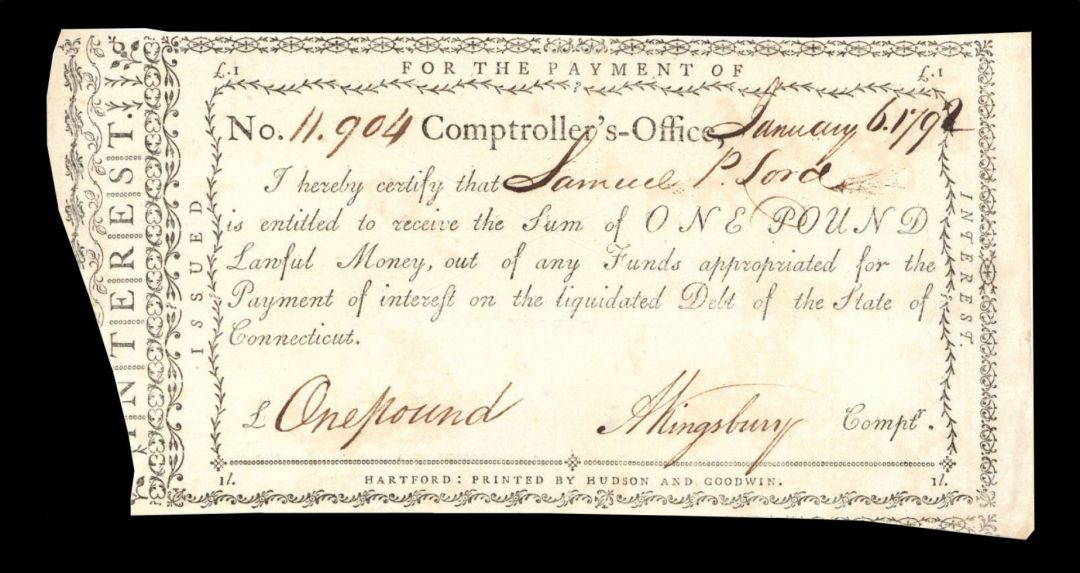 View Larger Image
State(s): Connecticut

Years: 1791-92
Comptroller's Office, Interest Note dated 1791-92, 1 and 2 Pounds. Cut cancellation with no paper loss. Signature of Andrew Kingsbury, Comptroller. Extremely Fine. Rare. Andrew Kingsbury, of Hartford, Conn., served through the Revolutionary War; then entered the Comptroller's office in Hartford, became Comptroller and Treasurer of the State, holding the latter office twenty-four years; and he was also Treasurer of the School Fund, having much to do with the sale of lands in the Western Reserve of Ohio.
Andrew Kingsbury was born 24 April 1759 at the West Farms. He was the son of Phebe French Kingsbury and Ephraim Kingsbury. He enlisted as a private soldier in June 1776, and was discharged with the Regiment in Salisbury, Pennsylvania, later that year. Kingsbury reentered the service at Danbury, Connecticut, in 1777; he was transferred to the General and Hospital Department, where he served as clerk until 15 December 1778, when he was appointed as Storekeeper. He remained in that position until 1781, when he became clerk in the office of Ralph Pomeroy, Esq., Deputy Quartermaster-General. Kingsbury married Mary Osborn (d. 1848) on 14 January 1783; they had five children. Kingsbury served in the Comptroller's Office until 1791. He was appointed Comptroller of Public Accounts, serving until 1793, when he was elected Treasurer of the State of Connecticut; Kingsbury remained in that office until 1818. He became Treasurer of the Connecticut Missionary Society in 1799, and Treasurer of Hartford Grammar School in 1806. Andrew Kingsbury died 6 October 1837 in Hartford, Connecticut. (Connecticut Historical Society)
Condition: Good
Item ordered may not be exact piece shown. All original and authentic.