1864 dated Confederate $10 Note - Confederate Paper Money - Currency
Inv# CF1125
Paper Money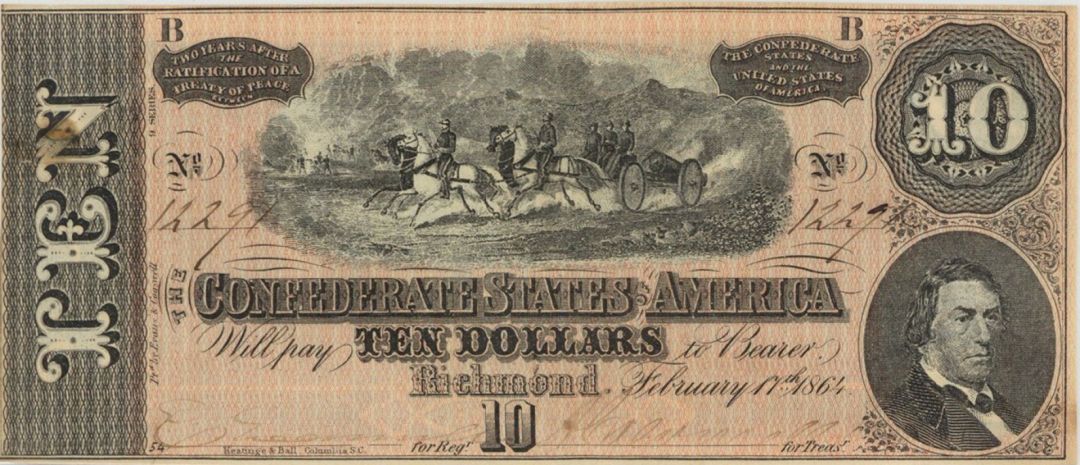 View Larger Image
State(s): Virginia

Years: 1864
$10. Richmond, Virginia. Type-68 CR-540-52. Minor stain. Confederate Treasury Notes (banknotes) were ultimately issued in 50¢, $1, $2, $5, $10, $20, $50, $100, $500 and $1,000 denominations with a variety of designs, issuers and redeemable obligations. The amount of currency issued under the various acts of the Confederate Congress totaled $1.7 billion. Bills were released in 72 different note "types" in seven "series" from 1861 through 1864. Since there were many types of Confederate notes as well as notes issued by the states of the Confederacy, and since banks could issue their own notes, counterfeiting was a major problem for the Confederacy. Many of these contemporary counterfeits are identifiable today and they can be as valuable to a collector as a real note. Confederate dollars and coins remain the subject of a lively trade, with careful grading of damage and deterioration similar to booksellers' gradings.
The Confederate States dollar was first issued just before the outbreak of the American Civil War by the newly formed Confederacy. It was not backed by hard assets, but simply by a promise to pay the bearer after the war, on the prospect of Southern victory and independence. As the Civil War progressed and victory for the South seemed less and less likely, its value declined. After the Confederacy's defeat, its money had no value, and both individuals and banks lost large sums. Read more at https://en.wikipedia.org/wiki/Confederate_States_dollar
Condition: A.U.
Item ordered may not be exact piece shown. All original and authentic.