Troy, Salem, and Rutland Railroad $1,000 Mortgage Bond signed twice by Jay Gould
Inv# AG1111
Bond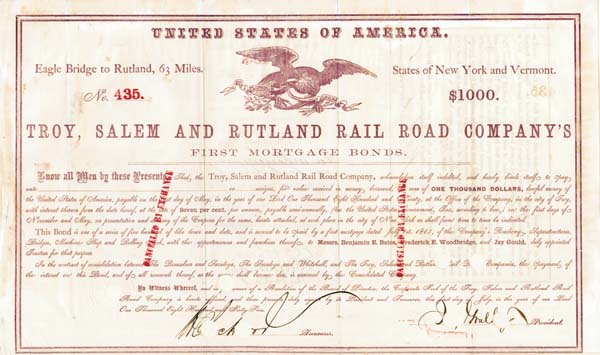 State(s): New York
Vermont

Years: 1865
Jay Gould (1836-1892) Financier. Just imagine, this bond was issued and signed by Jay Gould as President of this railroad at the age of 29! His signature at front of this 1865 Bond is quite bold but hole cancelled. His signature at back is perfect as he signs with other Trustees. Unusual format bond printed in purple with a typical Civil War style eagle at front. Bond issued for New York and Vermont. Stamp and hole cancelled. Very Fine Condition. A nice portrait of Gould is included. Very Rare!
A bond is a document of title for a loan. Bonds are issued, not only by businesses, but also by national, state or city governments, or other public bodies, or sometimes by individuals. Bonds are a loan to the company or other body. They are normally repayable within a stated period of time. Bonds earn interest at a fixed rate, which must usually be paid by the undertaking regardless of its financial results. A bondholder is a creditor of the undertaking.
Item ordered may not be exact piece shown. All original and authentic.