Cincinnati, Hamilton and Dayton Railroad Company signed by J. H. Wade
Inv# AG2241
Stock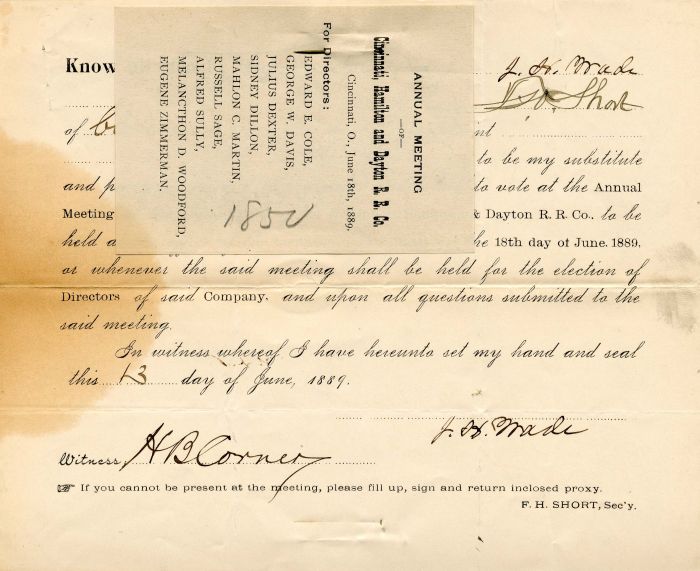 State(s): Ohio

Years: 1889
Power of Attorney for the annual meeting of the Cincinnati, Hamilton and Dayton Railroad Company signed by J. H. Wade.
Jeptha Homer Wade (August 11, 1811 – August 9, 1890) was an American industrialist, philanthropist, and one of the founding members of Western Union Telegraph.
Born in Romulus, New York, youngest of nine children of Jeptha and Sarah (Allen) Wade. Made first Daguerreotypes west of New York, was a portrait painter, moved to Adrian, Michigan, in 1840, before developing an interest in the telegraph. In 1847, he was subcontractor for J.J. Speed and constructed a telegraph line from Detroit to Jackson, Michigan, where Wade and his son operated the telegraph office. Then Detroit to Buffalo, Cleveland to Cincinnati (Cleveland and Cincinnati Telegraph Company, the Wade Line),and others. Wade moved to Cleveland, Ohio in 1856 and built a mansion on Euclid Avenue along Millionaires' Row. In the same year he helped Hiram Sibley consolidate most of the telegraph industry by forming Western Union through a series of acquisitions and mergers. In 1861, Jeptha Wade joined forces with Benjamin Franklin Ficklin and Hiram Sibley to form the Pacific Telegraph Company. With it, the final link between the east and west coast of the United States was made by telegraph. Wade became president of Western Union in 1866, and a year later he resigned because of ill-health, and sold his interests to Jay Gould.
He was an incorporator of the Cleveland Rolling Mill Company and the Citizens Savings and Loan Association becoming its first president, president of National Bank of Commerce, served on the board of directors of eight railroads.
Wade used his vast wealth to benefit the city of Cleveland. In 1882, he donated 63 acres  of land east of the city for the purpose of creating a park, which was named in his honor. Wade Park is Cleveland's cultural center surrounded by the Cleveland Museum of Art, the Cleveland Museum of Natural History, the Western Reserve Historical Society and the Cleveland Botanical Garden.
Wade also was heavily involved with the establishment of Hathaway Brown School, a private academy for young girls and women. He also co-founded the Case School of Applied Technology, part of Case Western Reserve University. In addition, Wade served as the first President of the Board of Trustees for Lake View Cemetery on Cleveland's east side.
Wade married Rebecca Louiza Facer in 1832, who bore his first son, Randall Palmer Wade, later that year. Rebecca Wade died November 30, 1836 at the age of 24. He re-married in 1837 to Susan Maranda Fleming, with whom they adopted 4 more children. All are buried in Lake View Cemetery, Cleveland.
Condition: Excellent
A stock certificate is issued by businesses, usually companies. A stock is part of the permanent finance of a business. Normally, they are never repaid, and the investor can recover his/her money only by selling to another investor. Most stocks, or also called shares, earn dividends, at the business's discretion, depending on how well it has traded. A stockholder or shareholder is a part-owner of the business that issued the stock certificates.
Item ordered may not be exact piece shown. All original and authentic.