Yellowstone Park Association signed by Colgate Hoyt - Stock Certificate
Inv# AG1535
Stock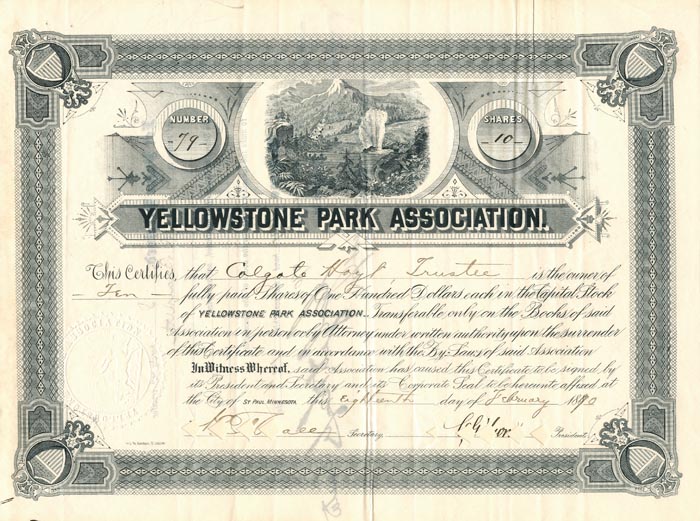 State(s): Minnesota

Years: 1890
Stock. St. Paul, Minnesota. Issued to and signed at back by Colgate Hoyt. (1849–1922) He was an American businessman active in the late nineteenth century. He was a director of the Oregon Railway and Navigation Company, and one of the founders of Everett, Washington, where a main street is named after him. He was a New York investment banker who was the partner of Joseph L. Colby as Colby, Hoyt. They were active together in the organization and finance of many businesses. He married Lida Williams Sherman, the daughter of Charles Taylor Sherman and niece of William Tecumseh Sherman. Their daughter, Elizabeth Sherman Hoyt, married the British diplomat Ronald Lindsay in 1924.
Condition: Excellent
A stock certificate is issued by businesses, usually companies. A stock is part of the permanent finance of a business. Normally, they are never repaid, and the investor can recover his/her money only by selling to another investor. Most stocks, or also called shares, earn dividends, at the business's discretion, depending on how well it has traded. A stockholder or shareholder is a part-owner of the business that issued the stock certificates.
Item ordered may not be exact piece shown. All original and authentic.