West Philadelphia Passenger Railway Company signed by George D. Widener - Stock Certificate
Inv# AG1038
Stock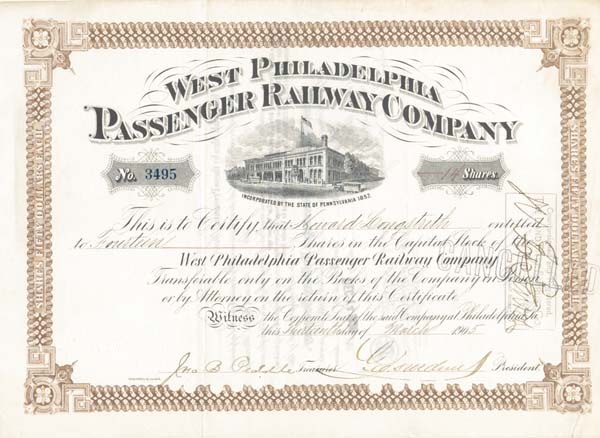 State(s): Pennsylvania

Years: 1905-1908
George D. Widener
Stock signed at front, hole cancelled but hardly touching signature. Excellent Condition.
George Dunton Widener (June 16, 1861 - April 15, 1912) was an American businessman who died in the sinking of the RMS Titanic. He is listed along with Harry Widener in the "Roll of the Dead-First Cabin". Born in Philadelphia, he was the eldest son of Hannah Josephine Dunton (1836-1896) and the extremely wealthy entrepreneur Peter A. B. Widener (1834-1915). George Widener joined his father's business and eventually took over the running of the Philadelphia Traction Company and oversaw the development of cable and electric streetcar operations. He also served on the board of directors of several important area businesses. A patron of the arts, Widener was a Director of the Pennsylvania Academy of Fine Arts.
In 1883, he married Eleanor Elkins, the daughter of his father's business partner, William Lukens Elkins. They had sons Harry Elkins Widener (b. 1885), George Dunton Widener, Jr. (b. 1889) and a daughter, Eleanor Widener (b. 1891). The family lived at Lynnewood Hall, his father's 110 room Georgian-style mansion in Elkins Park, Pennsylvania. In 1912 George Widener, his wife, and their son Harry traveled to Paris, France, booking their return passage on RMS Titanic. After the ship struck an iceberg, Widener placed his wife and her maid in a lifeboat. The pair were rescued by the steamship RMS Carpathia. George Dunton Widener and his son Harry both went down with the ship; their bodies, if recovered, were not identified. A memorial service for them was held at St. Paul's Episcopal Church in Elkins Park, Pennsylvania where stained glass windows were dedicated in their memory.
The
West Philadelphia Passenger Railway
was an early
commuter rail
that opened on July 2, 1858. Initially tracks ran from 3rd Street to 41st street along
Market Street
. Tracks ran over the
Permanent Bridge
that was completed in 1887. Passengers were transported by "
horse-drawn omnibuses
". The railway was the second
street railway
to be chartered in Philadelphia when it was chartered on April 28, 1857. Portions of the railway leading to
Darby
followed a route similar to that of
SEPTA's Route 11
today. People of color were not allowed to use the railways until an Act of the
Pennsylvania General Assembly
in 1867; however, they were permitted to stand on the platform with the driver.
Condition: Excellent
A stock certificate is issued by businesses, usually companies. A stock is part of the permanent finance of a business. Normally, they are never repaid, and the investor can recover his/her money only by selling to another investor. Most stocks, or also called shares, earn dividends, at the business's discretion, depending on how well it has traded. A stockholder or shareholder is a part-owner of the business that issued the stock certificates.
Item ordered may not be exact piece shown. All original and authentic.