W.C. Andrews - Standard Oil Trust - Stock Certificate
Inv# AG1866
Stock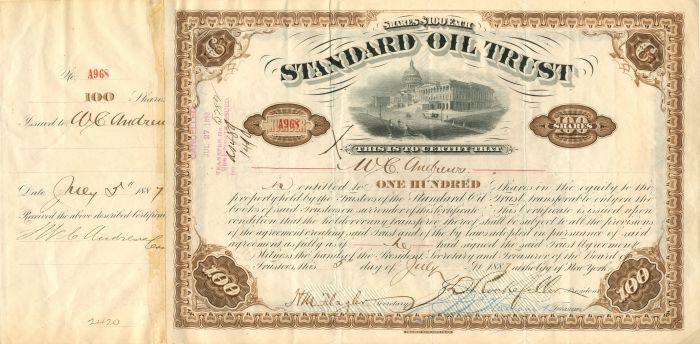 State(s): New York

Years: 1887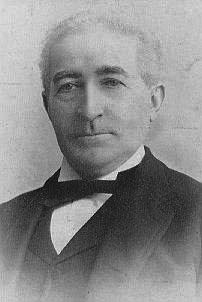 Stock issued to and signed by W.C. Andrews on back. Signed by J.D. Rockefeller as president and H.M. Flagler as secretary.
Wallace Corydon Andrews was born in Vienna, Ohio 17 June 1833. He was one of the original directors of the Standard Oil Company, and in 1879 became President of the New York Steam Company. The steam heating industry was still in its infancy, and the challenges of introducing the system to a city as large as New York seemed almost insurmountable. Yet Wallace C. Andrews decided to take on that challenge. He acquired franchise and license rights to deploy the Holly system, and incorporated the Steam Heating and Power Company of New York in 1879. Andrews acquired a competing firm that was formed in 1880, the New York Steam Company, and the two companies consolidated in 1881 under the latter name. The company built by Wallace Andrews was to go on to even greater success during the 20th century, but he was not to see it. During the night of April 7, 1899, Andrews and much of his family perished in a house fire. His brother-in-law, G.C. St. John, who was out of town when the tragic fire occurred, was made president of the company and guided it for more than a decade during a prolonged legal battle over Andrews' will.
Condition: Excellent
A stock certificate is issued by businesses, usually companies. A stock is part of the permanent finance of a business. Normally, they are never repaid, and the investor can recover his/her money only by selling to another investor. Most stocks, or also called shares, earn dividends, at the business's discretion, depending on how well it has traded. A stockholder or shareholder is a part-owner of the business that issued the stock certificates.
Item ordered may not be exact piece shown. All original and authentic.