United States Lines Co. Issued to and signed by Arthur Linkletter - Autographed Stocks and Bonds
Inv# AG2496
Stock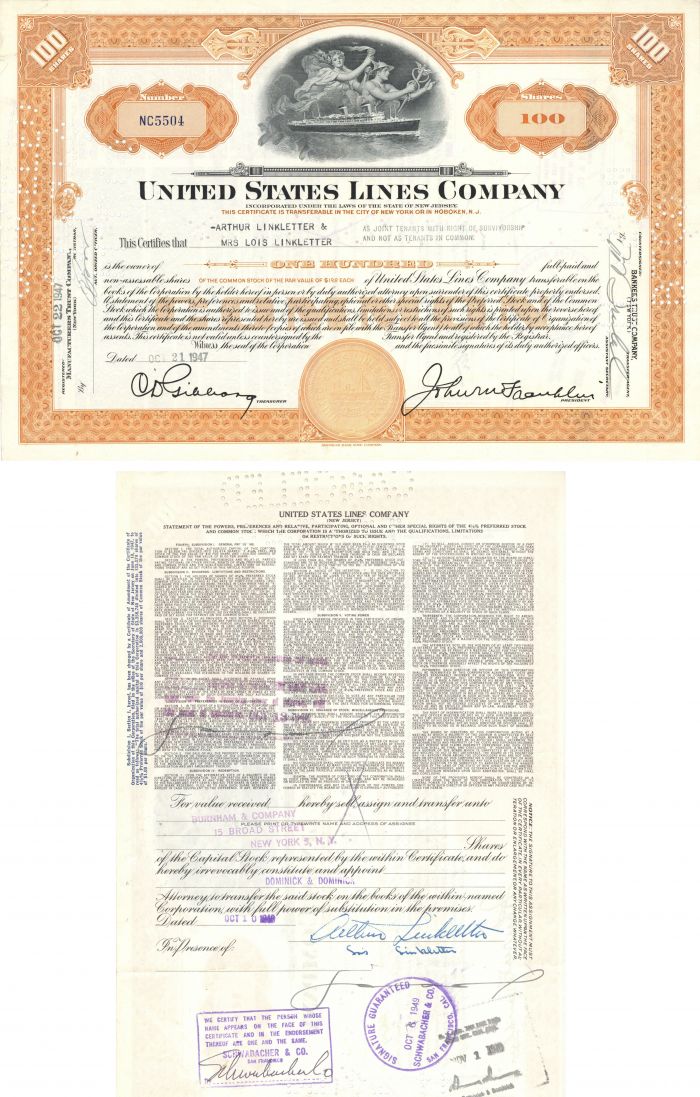 State(s): New Jersey

Years: 1947
Stock issued to and signed on back by Arthur Linkletter (better known as Art Linkletter) and Mrs. Lois Linkletter.
Arthur Gordon Linkletter (born Gordon Arthur Kelly or Arthur Gordon Kelly; sources differ, July 17, 1912 – May 26, 2010) was a Canadian-born American radio and television personality. He was the host of House Party, which ran on CBS radio and television for 25 years, and People Are Funny, which aired on NBC radio and television for 19 years. He became a naturalized United States citizen in 1942.
Old clips from Linkletter's House Party program were later featured as segments on the first incarnation of Kids Say the Darndest Things. A series of books followed which contained the humorous comments made on-air by children. He appeared in four films.
Linkletter was born in Moose Jaw, Saskatchewan. In his autobiography, Confessions of a Happy Man (1960), he revealed that he had no contact with his natural parents or his sister or two brothers since he was abandoned when only a few weeks old. He was adopted by Mary (née Metzler) and Fulton John Linkletter, an evangelical preacher.
When he was five his family moved to San Diego, California, where he graduated from San Diego High School at age 16. During the early years of the Great Depression he rode trains around the country doing odd jobs and meeting a wide variety of people. In 1934 he earned a bachelor's degree in teaching from San Diego State Teachers College (now San Diego State University), where he was a member of the Alpha Tau Omega fraternity. While attending San Diego State he played for the basketball team and was a member of the swimming team. He had previously planned to attend Springfield College, but did not for financial reasons.
In 1935 he met Lois Foerster. They were married at Grace Lutheran Church in San Diego, November 28, 1935. Their marriage lasted until Linkletter's death, 74 years later.
After receiving his teaching degree Linkletter decided to go to work as a radio announcer at KGB in San Diego, because radio paid better than teaching. He directed radio programs for fairs and expositions in the mid-1930s. Afterwards, he moved to San Francisco and continued his radio career. In 1943 Linkletter pleaded guilty to falsely claiming US citizenship; he was fined $500 and permitted to apply for citizenship. In the 1940s Linkletter worked in Hollywood with John Guedel on their pioneering radio show, People Are Funny, which employed audience participation, contests and gags. The series served as a prototype for future radio and television game shows. People Are Funny became a television show in 1954 and ran until 1961.
Other early television shows Linkletter worked on included Life With Linkletter with his son Jack (1969–1970) and Hollywood Talent Scouts (1965–1966). He also acted in two movies, People Are Funny (1946) and Champagne for Caesar (1950). Following an appearance in No Greater Love (1960), Linkletter would cease to appear in feature films.
Linkletter declined the opportunity offered by his friend Walt Disney to invest in the Disneyland theme park project, along with building and operating the Disneyland Hotel, due to Linkletter's doubts about the park's prospects. But, out of friendship for Disney, Linkletter volunteered his experience as a live program broadcaster to help organize ABC's coverage of the Disneyland opening in 1955 on what was his 43rd birthday. Besides being an on-air host, he recruited his two co-hosts: Ronald Reagan and Bob Cummings. The park opening experience convinced Linkletter that Disneyland was going to be a huge success. When Disney asked what he could do to show his gratitude for the broadcast's role in the successful launching of the park, Linkletter asked for Disneyland's camera and film concession for its first ten years, a request that was quickly granted. This turned out to be extremely lucrative.
In the 1950s Linkletter hosted a 15-minute series for syndication titled Art Linkletter and the Kids, seen locally on Saturday mornings in some areas.
On February 23, 1961, Linkletter and his son, Jack Linkletter, appeared together in "The Bible Man," one of the last episodes of Dick Powell's Zane Grey Theatre, which aired for five seasons on CBS. In the story line Linkletter is cast as the Reverend Albert Pierce, a traveling evangelist who is estranged from his grown son, Jimmy (Jack Linkletter), because he had tried to avoid telling Jimmy of the real circumstances of the death of Jimmy's mother. The son accused his father of causing the mother's death by burning down her house. However, she was already dead before the fire because a paramour had beaten her to death. The episode ends with the reconciliation of father and son. "The Bible Man" was Jack Linkletter's only dramatic acting appearance. It was the first of two dramatic television appearances by Art Linkletter. His second appearance came in episode 15, season 6 of the series Wagon Train in 1962 alongside Nancy Reagan. When on television, he otherwise played himself.
Linkletter appeared for two stints of two weeks each as a guest host of The Tonight Show in 1962 between Jack Paar's sudden departure and Johnny Carson's arrival as its new host.
In the 1950s Linkletter became a major investor in and promoter of the hula hoop. In 1963, Linkletter became the endorser and spokesman for Milton Bradley's The Game of Life. His picture appeared on the game's $100,000 bills and also on the box, framed by the statement "I heartily endorse this game."
Art Linkletter's Kids was a 1963–64 gag cartoon panel drawn by the prolific cartoonist Stan Fine and distributed by King Features Syndicate.
In the 1960s, Linkletter started a dance school, the Art Linkletter School of Jazz, Tap, and Ballet, in Pomona and Claremont, California.
After three public meetings in 1967, an eight-member Los Angeles City Council committee cleared Linkletter and City Council Member Tom Shepard of charges that they were linked in a scheme to influence city purchase of the "financially troubled" Valley Music Theater in Woodland Hills.
In 1988, he appeared as himself on the syndicated sitcom Small Wonder in the episode "Come Fly With Me." At one point he was a spokesman for National Home Life, an insurance company.
A registered Republican who campaigned for his old friend Ronald Reagan for President of the United States, Linkletter became a political organizer and a spokesman for the United Seniors Association, now known as USA Next, an alternative to the AARP. As part of this role, Linkletter was active in campaigning for more stringent restrictions on elderly motorists. He was also a member of the President's Council on Service and Civic Participation (which ended in November 2008).
In 1978, he wrote the foreword to the bestselling self-help book Release Your Brakes! by James W. Newman, in which he wrote, "I believe none of us should ever stop growing, learning, changing, and being curious about what's going to happen next. None of us is perfect, so we should be eager to learn more and try to be more effective persons in every part of our lives."
In 2005, at the age of 93, he opened the Happiest Homecoming on Earth celebrations for the 50th anniversary of Disneyland. Half a century earlier, he had been the commentator on the opening day celebrations in 1955. For this, he was named a Disney Legend.
Linkletter invested wisely, enabling his considerable philanthropy. A member of Pepperdine University's Board of Regents, Linkletter was also a long-term trustee at Springfield College, where he donated funds to build the swimming center named in his honor, the Art Linkletter Natatorium.
Linkletter received a lifetime achievement Daytime Emmy award in 2003. He was inducted into the National Speakers Association Speaker Hall of Fame. He also received honorary degrees from several universities, including his alma mater, San Diego State University; Pepperdine University; and the University of Prince Edward Island. For his contribution to television, he was honored with a star on the Hollywood Walk of Fame, located on 1560 Vine Street. Linkletter received the Golden Plate Award of the American Academy of Achievement presented by Awards Council member Lowell Thomas in 1975.
Linkletter had one of the longest marriages of any well-known person in America, at nearly 75 years. He married Lois Foerster on November 25, 1935, and they had five children: Arthur Jack, Dawn, Robert, Sharon and Diane. Lois Foerster Linkletter survived her husband by sixteen months, dying at the age of 95 on October 11, 2011. They outlived three of their five children.
On October 4, 1969, 20-year-old Diane died after jumping out of her sixth-floor kitchen window. Linkletter claimed that her death was drug related because she was on, or having a flashback from, an LSD trip (toxicology tests later determined there were no drugs in Diane's system at the time of her death). After Diane's death, Linkletter spoke out against drugs to prevent children from straying into a drug habit. On October 24, 1969, he said "Anybody who has said anything which would encourage my daughter to take LSD was unwittingly a part of being her murderer." His record, "We Love You, Call Collect", recorded before her death, featured a discussion about permissiveness in modern society, along with a rebuttal by Diane, titled "Dear Mom and Dad". The record won a 1970 Grammy Award for the "Best Spoken Word Recording".
Son Robert Linkletter died in an automobile accident on September 12, 1980. Another son, Arthur, died from lymphoma in 2007.
In early 2008, Linkletter suffered a mild stroke. He died on May 26, 2010 at age 97 at his home in Bel Air, Los Angeles, California.
After his death, Phyllis Diller stated, "In a couple of months Art Linkletter would have been 98 years old, a full life of fun and goodness, an orphan who made it to the top. What a guy." He was survived by his wife, Lois and daughters Dawn Griffin and Sharon Linkletter, as well as seven grandchildren and 15 great-grandchildren. Alexis Linkletter, his oldest great grandchild, has pursued a career in broadcasting and hosts a number of popular crime podcasts and produces documentary television.
Filmography
Television
Works
Linkletter, Art (1957). Kids Say the Darndest Things!. Englewood Cliffs, N.J.: Prentice-Hall. OCLC 336428.
Linkletter, Art (1960). The Secret World of Kids. New York: Pocket Books. ASIN B0007FZ0X0.
Linkletter, Art (1962) [1960]. Confessions of a Happy Man. with Dean Jennings. New York: Pocket Books. OCLC 21491400.
Linkletter, Art (1962). Kids Sure Rite Funny!. Bernard Geis Associate. ASIN B001KZ1FU8.
Linkletter, Art (1962). Kids STILL say the Darndest Things!. Pocket Books, Inc. ASIN B0007FZWBA.
Linkletter, Art (1965). A Child's Garden of Misinformation. Random House. ASIN B0007DSKPW.
Linkletter, Art (1968). I Wish I'd Said That! My Favorite Ad-Libs of All Time. Doubleday. ASIN B000MTRRQO.
Linkletter, Art (1968). Oops! Or, Life's Awful Moments. Pocket Books. ASIN B0007FBEFS.
Linkletter, Art (1968). Linkletter Down Under. Kaye Ward. ASIN B000KP2O3Q.
Linkletter, Art (February 1970). "We Must Fight the Epidemic of Drug Abuse!". Reader's Digest: 56–60.
Linkletter, Art (1973). Drugs at my Door Step. W Publishing Group. ISBN 0-87680-335-4.
Linkletter, Art (1974). Women are My Favorite People. Doubleday. ISBN 0-385-05226-X.
Linkletter, Art (1974). How to be a Super Salesman: Linkletter's Art of Persuasion. Prentice-Hall. ISBN 0-13-396606-2.
Linkletter, Art (1979). Yes, You Can!: How to Succeed in Business and Life. Spire. ASIN B000O8ZB8O.
Linkletter, Art (1980). I Didn't Do It Alone: The Autobiography of Art Linkletter as Told to George Bishop. Ottawa, Illinois: Caroline House Publishers. ISBN 0-89803-040-4. OCLC 6899386.
Linkletter, Art (1990). Old Age is Not for Sissies. Bookthrift Co. ISBN 0-7917-1479-9.
Linkletter, Art (2006). How to Make the Rest of Your Life the Best of Your Life. with Mark Victor Hansen. Thomas Nelson. ISBN 0-7852-1890-4.
United States Lines was the trade name of an organization of the United States Shipping Board (USSB), Emergency Fleet Corporation (EFC) created to operate German liners seized by the United States in 1917. The ships were owned by the USSB and all finances of the line were controlled by the EFC. Among the notable ships of this period was Leviathan, a contender for largest ship in the world for a time.
Eventually the line was sold and went private to continue operating as a transatlantic shipping company that operated cargo services from 1921 to 1989, and ocean liners until 1969—most famously, United States.
United States Lines was the trade name of the United States Shipping Board's Emergency Fleet Corporation (EFC) organization created to operate the large German liners seized by the United States in 1917. By 1925 the corporation operated ex-German liners Leviathan, George Washington, America, Republic and the USSB built ships President Roosevelt and President Harding in service between New York and Europe. On 15 November 1921 the line began operating from piers 3 and 4 at the USSB's Hoboken Terminal which had been the Hamburg America Line facilities in Hoboken, New Jersey seized by the United States and, during the war, operated by the Army as the Hoboken Port of Embarkation. The USSB engaged in advertising of the line and its ships through agencies using a "coupon" system to collect names and addresses of interested persons for direct mailings. All the line's funds were managed by the USSB Treasurer.
The line started with three ships from the tonnage of the failed United States Mail Steamship Company. One of the founders was Kermit Roosevelt, son of US President Theodore Roosevelt. Two of the ships, America and George Washington, were originally German vessels that had been seized during World War I and kept as reparations. Both America and George Washington made New York–Bremen runs, while Centennial State ran from New York to London.
The line became well known in the 1920s when two valiant historic rescues were made using their ships President Roosevelt in 1926 and America in 1929 by Captain George Fried.
More ships were acquired in 1922 and renamed after US presidents. The 52,000-ton Leviathan, formerly Vaterland and one of the largest liners in the world, was acquired in 1923.
Throughout the 1920s, the line accumulated debt, and in March 1929, the line was sold to P.W. Chapman Company, and reorganized as the "United States Lines Inc." of Delaware. The stock market crash made matters worse, and in 1931, the remaining ships were sold to "United States Lines Company" of Nevada. Later in 1931, United States Lines was acquired by the Roosevelt International Mercantile Marine Company, which had been formed earlier in the year from the merger of the Roosevelt Steamship Company and International Mercantile Marine Co.
In 1932, Manhattan, at a cost of approximately $21 million, became the first ship actually built for the line, followed the next year by Washington. In 1940, a new America joined them.
In 1932, United States Lines had offered to build a new passenger liner, called U.S. Express Liner, which would also double as a mail ship, and would dramatically decrease the time of delivery for trans-Atlantic mail by catapulting an aircraft when it was within range. Congress refused to give a guarantee on trans-Atlantic postal rates and it was never built.
During the 1930s, United States Lines' ailing parent company, Roosevelt International Mercantile Marine, began winding down its other operations and merging several of its divisions into United States Lines. United States Lines absorbed the American Line in 1932, the Baltimore Mail Line in 1937, and the American Merchant Line in 1938.
The decade started with United States Lines absorbing the Roosevelt Line in 1940, leaving United States Lines as Roosevelt International Mercantile Marine's sole operating business. Roosevelt International Mercantile Marine Company finally changed its name to "United States Lines Inc." in 1942, reflecting its new focus.
In World War II, the ships were converted into troopships. Manhattan became USS Wakefield, and Washington became USS Mount Vernon. The flagship America became the USS West Point After the war, the company began to build smaller and cheaper ships, and operated a number of cargo ships, all named beginning with "American" or "Pioneer".
In 1941, two Nazi spies, Franz Joseph Stigler and Erwin Wilhelm Siegler, worked for United States Lines as members of SS America's crew. While on America, they obtained information about the movement of ships and military defense preparations at the Panama Canal, observed and reported defense preparations in the Canal Zone, and met with other German agents to advise them in their espionage pursuits. They operated as couriers, transmitting information between the United States and German agents aboard. Stigler worked undercover as the chief butcher. Both remained on America until the US Navy converted her into USS West Point.
Stigler and Siegler, along with the 31 other German agents of the Duquesne Spy Ring, were later uncovered by the FBI in the largest espionage conviction in US history. Stigler was sentenced to serve 16 years in prison on espionage charges with two concurrent years for registration violations; Siegler was sentenced to ten years imprisonment on espionage charges and a concurrent 2-year term for violation of the Registration Act.
With a government subsidy for her construction, United States entered service in 1952. She holds the record as the largest ocean liner built in the United States and the fastest ocean liner ever built. She immediately set transatlantic speed records, capturing the Blue Riband from Queen Mary. But competition from airliners brought the glory days to an end; in 1964, America was sold to Chandris Line, and United States was withdrawn from service in 1969. She is presently docked along the Delaware River in South Philadelphia.
After the termination of passenger services, United States Lines continued to operate as a container ship line, being bought by containerization pioneer Malcom McLean in 1978. By the 1980s, the line operated 43 vessels and was a leader in international shipping. It spent over US$1 billion in rapidly expanding its fleet and acquiring two competitors, Moore-McCormack Lines and Delta Steamship Lines. In expectation of a worldwide surge in oil prices, United States Lines borrowed heavily to construct a new class of 12 fuel-efficient container ships known as the Jumbo Econships that, at over 57,000 gross tons, were the largest cargo ships yet built. Just as the new vessels were delivered, international freight rates fell and oil prices collapsed to near historic lows. The giant and slow Econships left United States Lines overcapacity, deeply in debt, and unable to compete with faster ships that were once again economically viable. Straining under the debt accumulated by the fleet expansion, the company filed for bankruptcy on 24 November 1986 in one of the largest bankruptcies in US history at the time. Most of the vessels were sold to pay creditors and in the reorganization plan filed on 5 July 1988, the company was formally liquidated by 1992.
Pursuant to the revised reorganization plan approved by the bankruptcy court in 1989, United States Lines Inc. was restructured as Janus Industries Inc. in November 1990, with its shares distributed to United States Lines creditors and the court-managed bankruptcy trust fund. The company's new management spent several years searching for new business opportunities, finally acquiring Pre-Tek Wireline Service Company, a provider of services to the oil, gas, and logging industries in 1996. In 1997, Janus acquired a number of hospitality assets from companies affiliated with the investors Louis S. Beck and Harry Yeaggy, gaining ownership of 6 hotels, an 85% interest in a 7th hotel, a management company operating another 21 hotels, a fee-sharing joint venture with another management company on another property, and control of two mortgaged-backed loans. Beck and Yeaggy gained control of 43% of Janus Industries, and the former United States Lines decided to concentrate exclusively on the hotel business. Pre-Tek Wireline was spun off to its management in 1998 and Janus Industries changed its name again to Janus Hotels & Resorts Inc. in 1999. United States Lines' successor company now controls hotels and resorts in 21 states.
The name United States Lines was revived briefly in 2000 and 2001, as a brand name of American Classic Voyages, operating cruises in Hawaii with a single ship, MS Patriot, formerly Holland America Line's Nieuw Amsterdam. Construction had begun in 2000 on the future Pride of America, and a 72,000-ton sister ship as part of Project America, but in October 2001, the company filed for bankruptcy and ceased operations. The two unfinished vessels were acquired by Norwegian Cruise Line for their new NCL America division, while Patriot was repossessed by Holland America.
A new container shipping services company called US Lines LLC (Not related to the original company in any way) was established in Santa Ana, California in 2003 by CMA CGM. However, the company announced on December 6, 2016, that US Lines would be phased out and re-branded as ANL.
Several piers in New York City remain as artifacts left behind by the company. Pier 76, United States Lines Terminal, was constructed as a cargo pier on West Side Highway at what was then the foot of 36th Street, and is now in use by Classic Car Club Manhattan, who took over the pier's lease from the NYPD in April 2016. Neon letters spelling "United States Lines" are located on the west side of the pier, facing New Jersey. One letter, "I", on the sign was working until sometime in the 2000s. The sign can be seen by the arriving NY Waterway ferry passengers or those taking the New York Circle Line water tour of Manhattan. The pier head building facing the street is also marked with the Line's name, at each end. Pier 86, United States Lines' passenger pier, still exists, although the pier building has been demolished. The Intrepid Sea, Air & Space Museum is now based there, with USS Intrepid permanently berthed at the pier. In Newport News, Virginia, where many of the United States Lines ships were built, one of the huge propellers from United States is on display at the entrance of the Mariners' Museum.
On February 4, 2016, Crystal Cruises announced a proposal to re-activate the former flagship of the United States Lines, SS United States, for passenger service. Crystal signed a purchase option for the ship and will cover docking costs in Philadelphia for nine months while it conducts a feasibility study. However, Crystal Cruise backed out in August 2016 due to challenges.
On December 10, 2018, the conservancy announced an agreement with the commercial real estate firm RXR Realty, of New York City, to explore options for restoring and redeveloping the ocean liner. In 2015, RXR had expressed interest in developing an out-of-commission ocean liner as a hotel and event venue at Pier 57 in New York. The conservancy requires that any redevelopment plan preserve the ship's profile and exterior design, and include approximately 25,000 sq ft (2,323 m2) for an onboard museum. RXR's press release about the United States stated that multiple locations would be considered, depending on the viability of restoration plans.
Condition: Excellent
A stock certificate is issued by businesses, usually companies. A stock is part of the permanent finance of a business. Normally, they are never repaid, and the investor can recover his/her money only by selling to another investor. Most stocks, or also called shares, earn dividends, at the business's discretion, depending on how well it has traded. A stockholder or shareholder is a part-owner of the business that issued the stock certificates.
Item ordered may not be exact piece shown. All original and authentic.