Union Pacific Rail Road Co. - 1860's-70's dated Kansas Railway Unissued Stock Certificate
Inv# RS5379
Stock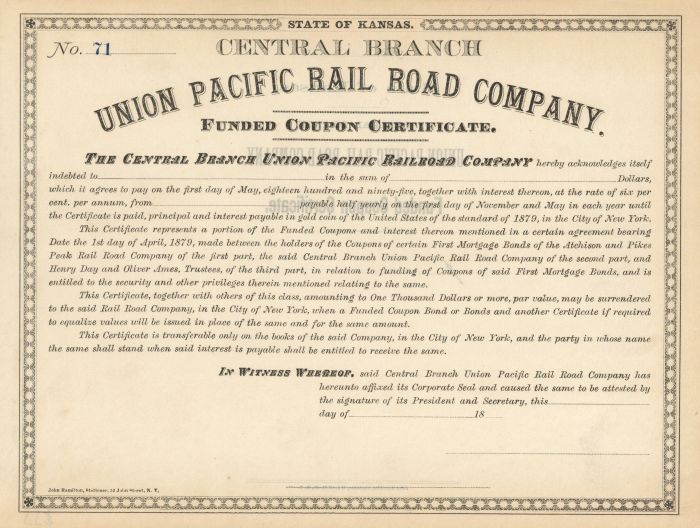 State(s): Kansas

Years: 1860's-70's
Unissued Stock printed by John Hamilton, Stationer, N.Y. The Central Branch Union Pacific Railroad was a railroad in the U.S. state of Kansas. Originally planned as a line from Atchison west into Colorado, and given federal land grants by the Pacific Railway Act of 1862 as one of the branches of the Union Pacific Railroad, it was left with a hanging end at Waterville, Kansas, when the Union Pacific Railway, Eastern Division, with which it was to connect, changed its route. The line was acquired by the Union Pacific through a stock purchase by Jay Gould and leased to the Missouri Pacific Railroad in 1880. In 1909 the Central Branch was merged into the Missouri Pacific; the latter company came back into the Union Pacific system in 1982. In 1991 the remaining trackage west of Frankfort was leased to the Kyle Railroad.
Despite its name, the Central Branch Union Pacific was not associated with the Union Pacific until 1880; it was to be one of several eastern branches of the First transcontinental railroad, of which the Union Pacific constituted the main line between Council Bluffs, Iowa/Omaha, Nebraska, and Ogden, Utah, where it connected with the Central Pacific Railroad. Read more at https://en.wikipedia.org/wiki/Central_Branch_Union_Pacific_Railroad
Condition: Excellent
A stock certificate is issued by businesses, usually companies. A stock is part of the permanent finance of a business. Normally, they are never repaid, and the investor can recover his/her money only by selling to another investor. Most stocks, or also called shares, earn dividends, at the business's discretion, depending on how well it has traded. A stockholder or shareholder is a part-owner of the business that issued the stock certificates.
Item ordered may not be exact piece shown. All original and authentic.