Uncut Sheet of 4 State of Louisiana Bonds known as 'Baby Bonds' - 1874-78 dated Series B Uncut Sheet of 4 Bonds - Great History
Inv# GB5065B
Bond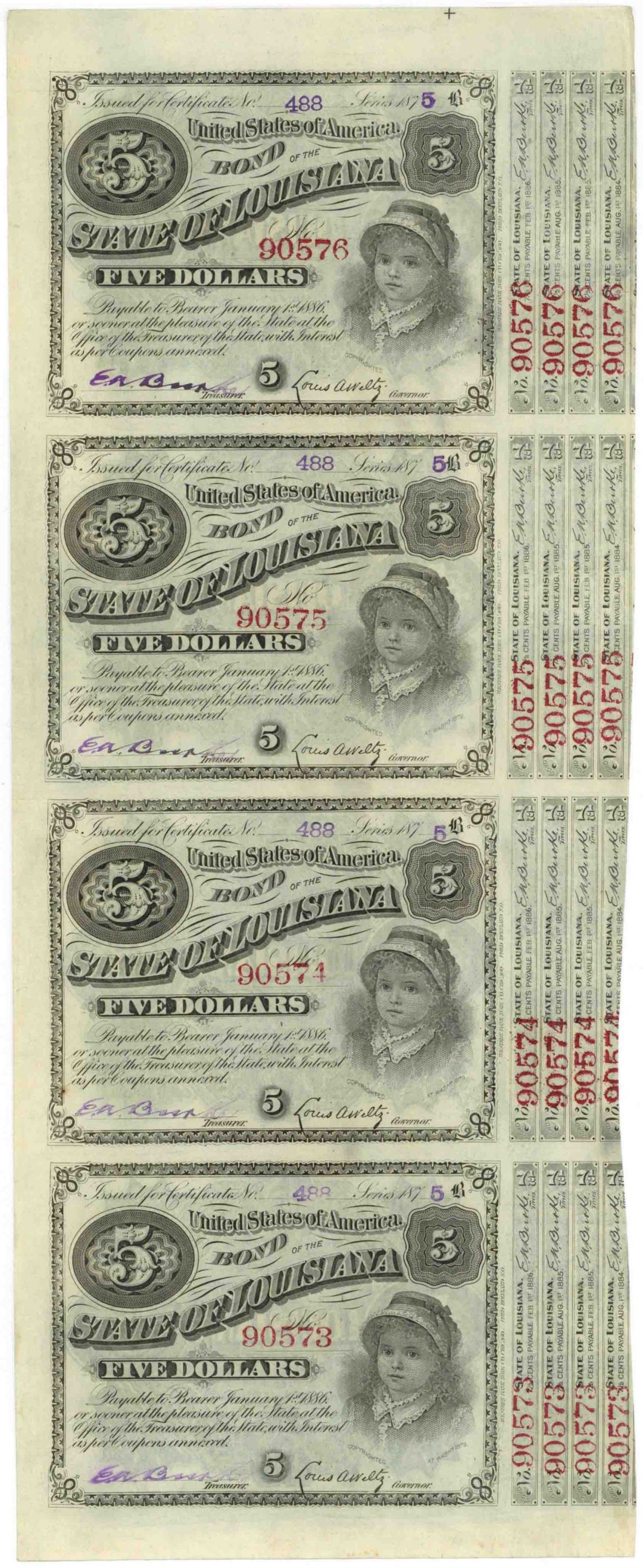 View Larger Image
State(s): Louisiana

Years: 1874-78
Color: Brown with Red Serial Numbers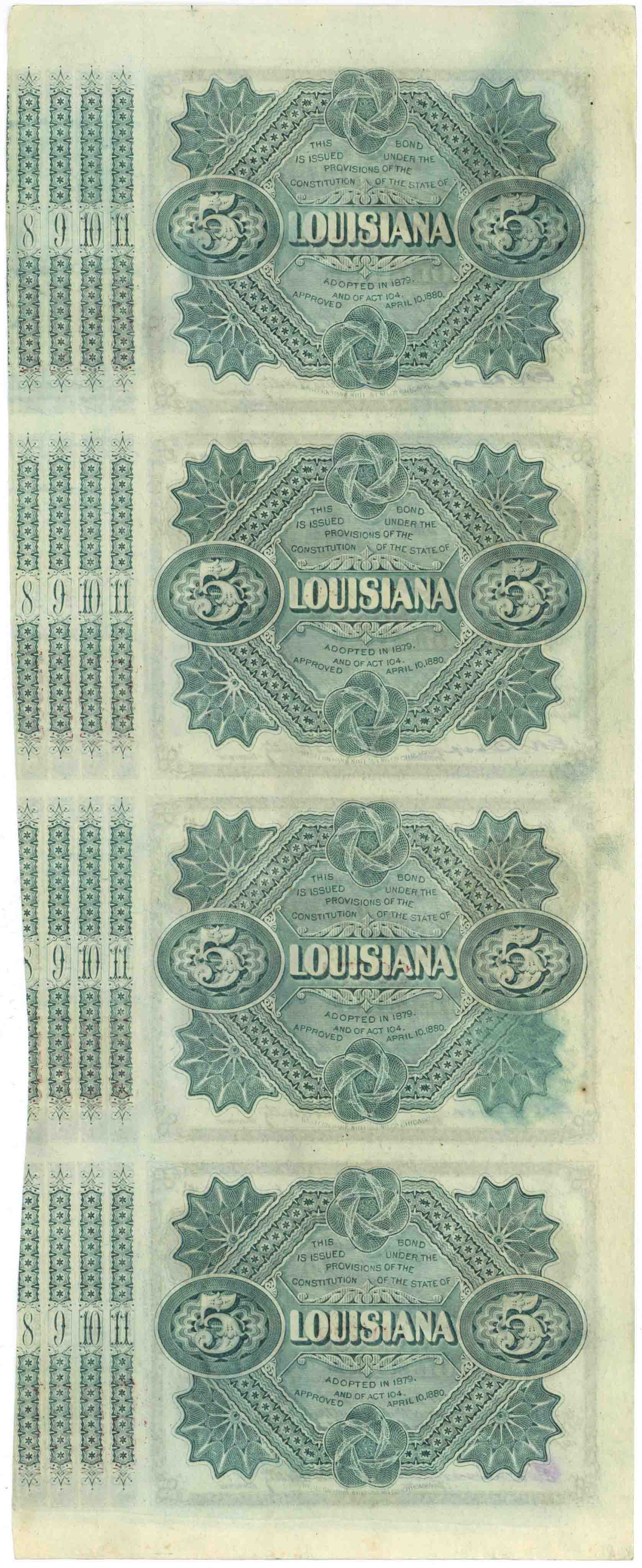 Series B $5 Dollar State of Louisiana Baby Bonds. Uncut Sheet of 4 Bonds. These 1870's bonds come with an interesting history. At the close of the Civil War, the federal government imposed a large tax on state bank notes. The state of Louisiana issued small bank notes and disguised them as interest-bearing bonds. These $5.00 "Baby Bonds" have a picture of a baby on the front. Thus the state avoided the tax. Everyone knew that they were worth the same as federally approved currency, so they were used throughout the state.
In the 1880's Louisiana's State Treasurer, Edward Burke or Burk, had used the original plates to reprint these bonds with identical numbers. About $300,000 in counterfeit Baby Bonds were discovered in his safe deposit box. He fled to Brazil. These genuine $5.00 Baby Bonds each have their own serial number and Ed Bunker's facsimile signature. They make a great addition to any collection because of their size (51/2" x 31/4"), baby denomination, baby 71/2¢ coupons and charming vignette of a baby. Uncut sheet of 4 Bonds, uncancelled.
Edward Austin Burke or Burk (September 13, 1839 – September 24, 1928), was the Democratic State Treasurer of Louisiana following Reconstruction. Burke later fled to Honduras after it was discovered that there were misappropriations of state treasury funds. While in Honduras Burke became a major land owner and held government positions within Honduras' nationalized railway systems. He remained an exile until his death nearly four decades later.
Read more at https://en.wikipedia.org/wiki/Edward_A._Burke
Condition: Excellent
A bond is a document of title for a loan. Bonds are issued, not only by businesses, but also by national, state or city governments, or other public bodies, or sometimes by individuals. Bonds are a loan to the company or other body. They are normally repayable within a stated period of time. Bonds earn interest at a fixed rate, which must usually be paid by the undertaking regardless of its financial results. A bondholder is a creditor of the undertaking.
Item ordered may not be exact piece shown. All original and authentic.