Trans World Airlines, Inc. - Commercial Airline Co. $1,000 Bond dated 1960's - Aviation
Inv# VB5005
Bond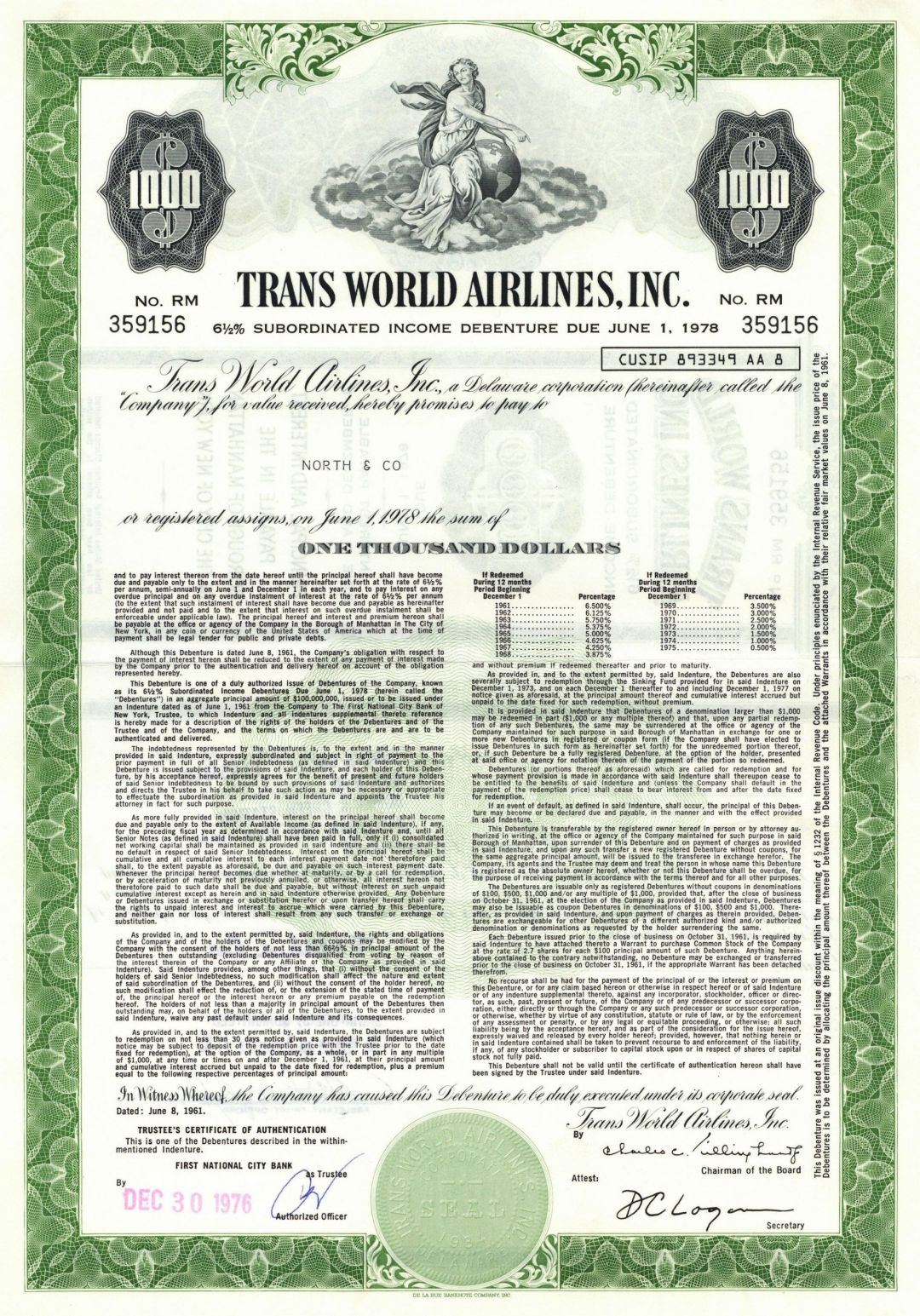 View Larger Image
State(s): Delaware

Years: 1960's
Color: Gray, Green or Red
Aviation Bond. Various Denominations. Vignette of female in the clouds with a globe engraved by the De La Rue Banknote Co, Inc. Scarce!!! Available in Gray, Green or Red. Please specify color.
Trans World Airlines (TWA) was a major American airline which operated from 1930 until 2001. It was formed as Transcontinental & Western Air to operate a route from New York City to Los Angeles via St. Louis, Kansas City, and other stops, with Ford Trimotors. With American, United, and Eastern, it was one of the "Big Four" domestic airlines in the United States formed by the Spoils Conference of 1930. Howard Hughes acquired control of TWA in 1939, and after World War II led the expansion of the airline to serve Europe, the Middle East, and Asia, making TWA a second unofficial flag carrier of the United States after Pan Am. Hughes gave up control in the 1960s, and the new management of TWA acquired Hilton Internationaland Century 21 in an attempt to diversify the company's business.
As the Airline Deregulation Act of 1978 led to a wave of airline failures, start-ups, and takeovers in the United States, TWA was spun off from its holding company in 1984. Carl Icahn acquired control of TWA and took the company private in a leveraged buyoutin 1988. TWA became saddled with debt, sold its London routes, underwent Chapter 11restructuring in 1992 and 1995, and was further stressed by the explosion of TWA Flight 800 in 1996. TWA was headquartered at one time in Kansas City, Missouri, and planned to make Kansas City International Airport its main domestic and international hub, but abandoned this plan in the 1970s. The airline later developed its largest hub at St. Louis Lambert International Airport. Its main transatlantic hub was the TWA Flight Center at John F. Kennedy International Airport in New York City, an architectural icon designed by Eero Saarinen, and completed in 1962. Read more at https://en.wikipedia.org/wiki/Trans_World_Airlines
Condition: Excellent
A bond is a document of title for a loan. Bonds are issued, not only by businesses, but also by national, state or city governments, or other public bodies, or sometimes by individuals. Bonds are a loan to the company or other body. They are normally repayable within a stated period of time. Bonds earn interest at a fixed rate, which must usually be paid by the undertaking regardless of its financial results. A bondholder is a creditor of the undertaking.
Item ordered may not be exact piece shown. All original and authentic.