Thomas A. Scott - Pennsylvania Co. - Stock Certificate
Inv# CW1015
Stock
State(s): Pennsylvania

Years: 1871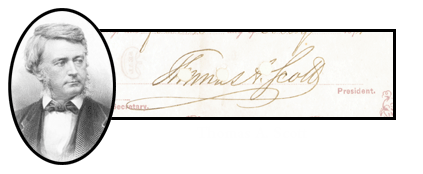 Thomas Alexander Scott (1823-1881), President of the Pennsylvania Railroad, Union Army Transportation Officer in the Civil War. He proposed a plan for President-elect Lincoln's surreptitious entry into Washington, D.C. in 1861, Assistant U.S. Secretary of War in charge of government railways and transport, 1861-62. Supervised removal of Gen. Hooker's force from Virginia to Chattanooga, 1863. Strengthened the Pennsylvania system from 1874-80. His signature at front is hole cancelled but nice on this 1871 stock. Stamp and manuscript cancelled. Washington Revenue. Rare!
A stock certificate is issued by businesses, usually companies. A stock is part of the permanent finance of a business. Normally, they are never repaid, and the investor can recover his/her money only by selling to another investor. Most stocks, or also called shares, earn dividends, at the business's discretion, depending on how well it has traded. A stockholder or shareholder is a part-owner of the business that issued the stock certificates.
Item ordered may not be exact piece shown. All original and authentic.