Super Petchili Bond with Pass-Co Authentication - Chinese Republic 20 Pound Lung-Tsing-U-Hai Railway
Inv# FB5128
Bond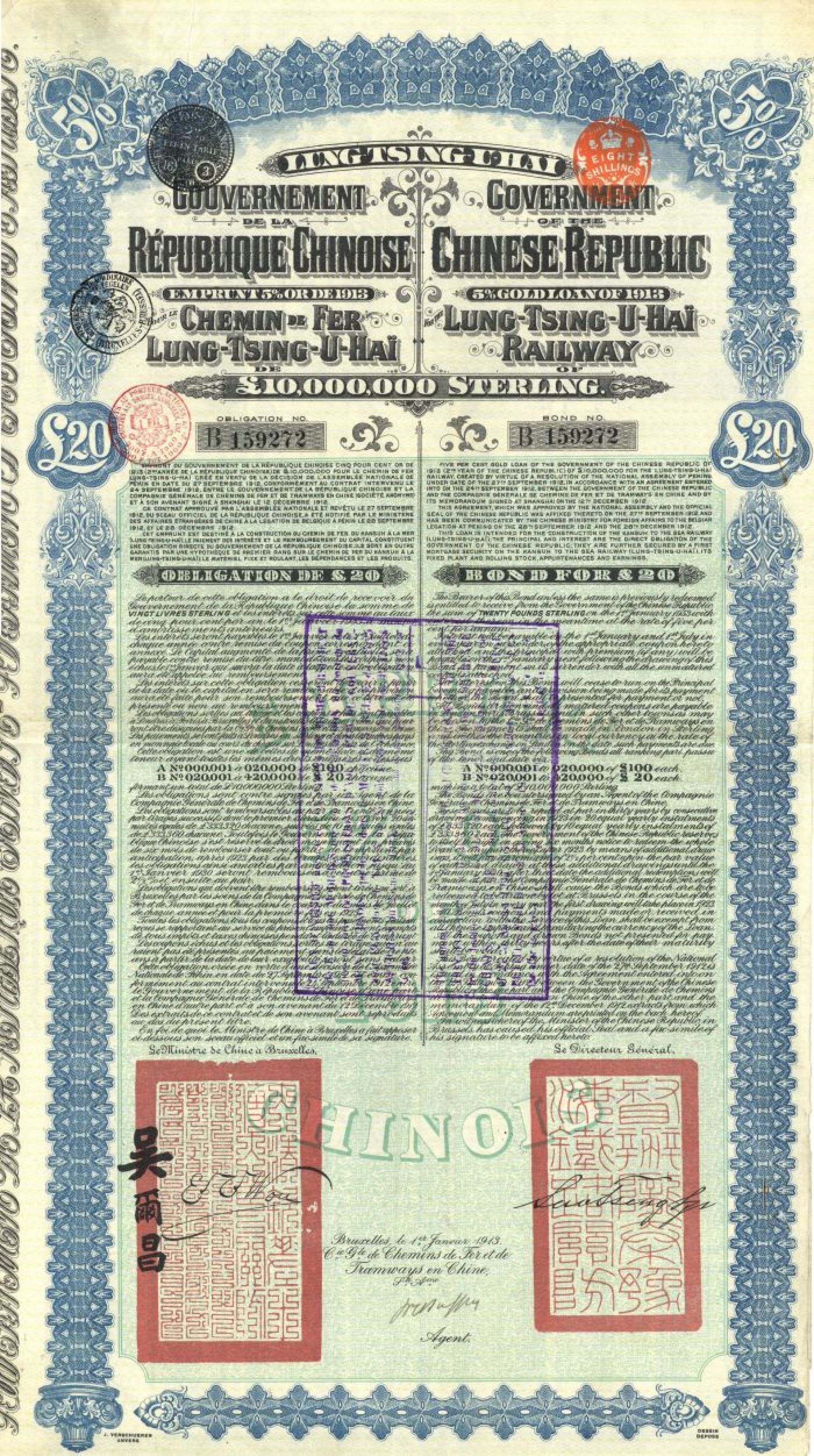 Country: China

Years: 1913
Color: Blue
Government of the Chinese Republic, 5% GOLD LOAN OF 1913 LUNG-TSING-U-HAI RAILWAY of £10,000,000 Sterling BOND FOR £20 denomination with Pass-Co Authentication.
New article relating to this Chinese item: https://www.bloomberg.com/news/articles/2019-08-29/trump-s-new-trade-war-weapon-might-just-be-antique-china-debt
LUNG TSING U HAI RAILWAY BOND. Titles and Text: Repeated in French and English. Printer: J. Verschueren, Anvers, Belgium. Size: Large Format, 11x20" plus 10x20" Coupon at right. Also called the Belgian Lanshow Railway Loan. Authorized £10,000,000. But only £4,000,000 were issued in 1913 and offered by the Banque Belge at Fr 461.40 for each Fr 500 or £20 Bond in Brussels and Paris on behalf of the Co. Gen. Chemins de Fer et de Tramways en Chine. For the construction and equipment of a main line (1125 miles) between Lanchow (on the West) and Haichow on the sea (north of the Yantze), utilizing the Pienlo Railway. Number of coupons will vary from 42 or so. Known as the "Super Petchili".
Condition: Extremely Fine
A bond is a document of title for a loan. Bonds are issued, not only by businesses, but also by national, state or city governments, or other public bodies, or sometimes by individuals. Bonds are a loan to the company or other body. They are normally repayable within a stated period of time. Bonds earn interest at a fixed rate, which must usually be paid by the undertaking regardless of its financial results. A bondholder is a creditor of the undertaking.
Item ordered may not be exact piece shown. All original and authentic.