Standard Oil Trust issued to and signed by Miss A. C. Flagler as well as John D. Rockefeller, H. M. Flagler - Stock Certificate
Inv# AG1225
Stock
Years: 1887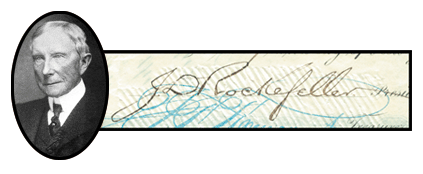 John D. Rockefeller (1839-1937), Industrialist, Philanthropist. Rockefeller formed the first oil trust at the age of 30. The world's first billionaire. He hated waste and would drive poorly run competition out of business. He became the most detested man in the country. Rockefeller gave 3/4 of a billion dollars to science and education. Henry M. Flagler, Capitalist and Promoter. Rockefeller once stated in court that Flagler was "the brains behind the Standard Oil Trust". This very special stock is issued to and signed at back by Henry Flagler for his half sister Anne Caroline Flagler (Carrie). It is also initialed by Flagler at the stub and is transferred to him at the back. Note that the signature of Rockefeller is particularly large and bold! Truly Exceptional!!!
A stock certificate is issued by businesses, usually companies. A stock is part of the permanent finance of a business. Normally, they are never repaid, and the investor can recover his/her money only by selling to another investor. Most stocks, or also called shares, earn dividends, at the business's discretion, depending on how well it has traded. A stockholder or shareholder is a part-owner of the business that issued the stock certificates.
Item ordered may not be exact piece shown. All original and authentic.