Sonora Railway Co. Limited - Unissued Railroad Stock Certificate - Became Part of the Atchison, Topeka & Santa Fe Railway
Inv# AT93
Stock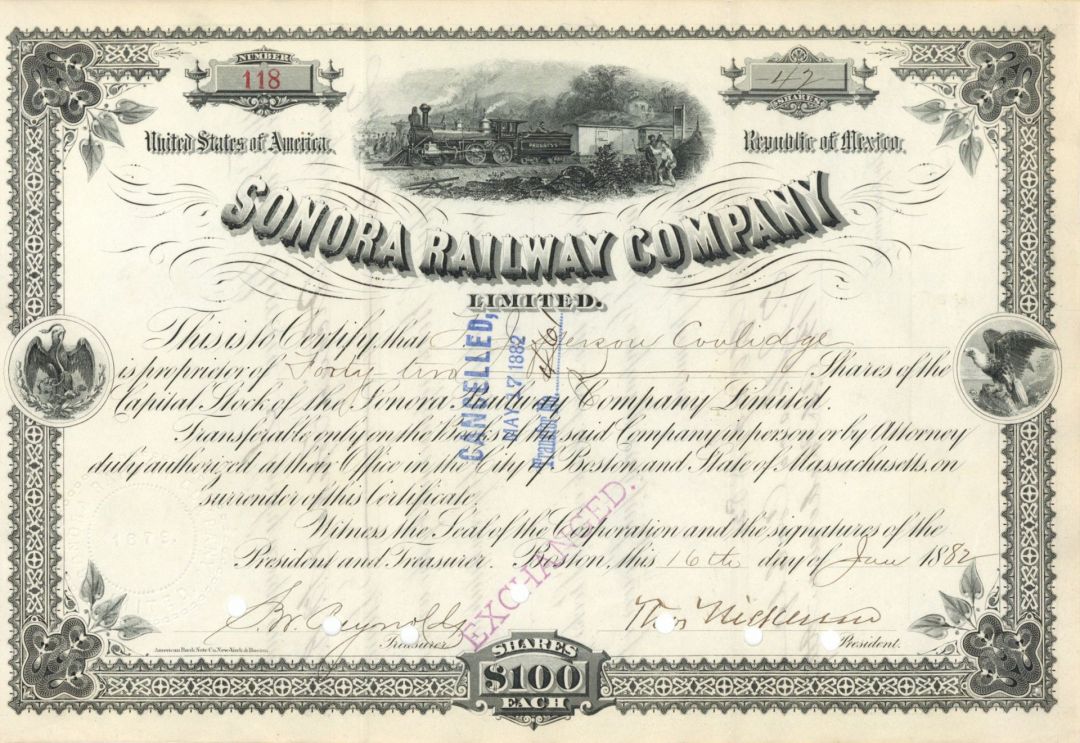 View Larger Image
Country: Mexico

State(s): Massachusetts

Years: 18--
Unissued Stock. Operated from 1879 to 1895. Incorporated in Boston, Massachusetts. Launched by some of the same individuals who funded the Atchison, Topeka and Santa Fe, the Sonora Railway Company first entered operation between its terminal point at Guaymas, Mexico and Hermosillo, Mexico. That same year, the Sonora Railway, which continued to expand towards Arizona, was acquired by the AT&SF in a two-for one stock exchange.
Also stated at https://www.bnsf.com/bnsf-resources/pdf/about-bnsf/History_and_Legacy.pdf:
Connection to Mexico was another prime objective of the railroad under Strong's leadership. The Sonora Railway Co. was organized in 1880 for the purpose of building a railroad from the border at Nogales, Ariz., through Mexico to Guaymas on the Gulf of California. Work began at Guaymas in 1880, with 90 miles laid north to Hermosillo by 1881, and additional mileage to the U.S. border at Nogales completed the next year. An agreement was soon made with the Southern Pacific (SP) allowing Santa Fe to use its rails from Deming to Benson, Ariz. The New Mexico and Arizona Railroad Co. was incorporated in 1882 and started building from Benson toward Nogales; nine months later, the two lines met. This meant Santa Fe finally reached the Pacific outlet. The line's completion gave Santa Fe claim to the longest rail line under one management in the world.
Condition: Excellent
A stock certificate is issued by businesses, usually companies. A stock is part of the permanent finance of a business. Normally, they are never repaid, and the investor can recover his/her money only by selling to another investor. Most stocks, or also called shares, earn dividends, at the business's discretion, depending on how well it has traded. A stockholder or shareholder is a part-owner of the business that issued the stock certificates.
Item ordered may not be exact piece shown. All original and authentic.