Samuel Coates Signed Early Stock - Autographs
Inv# AU1711
Autograph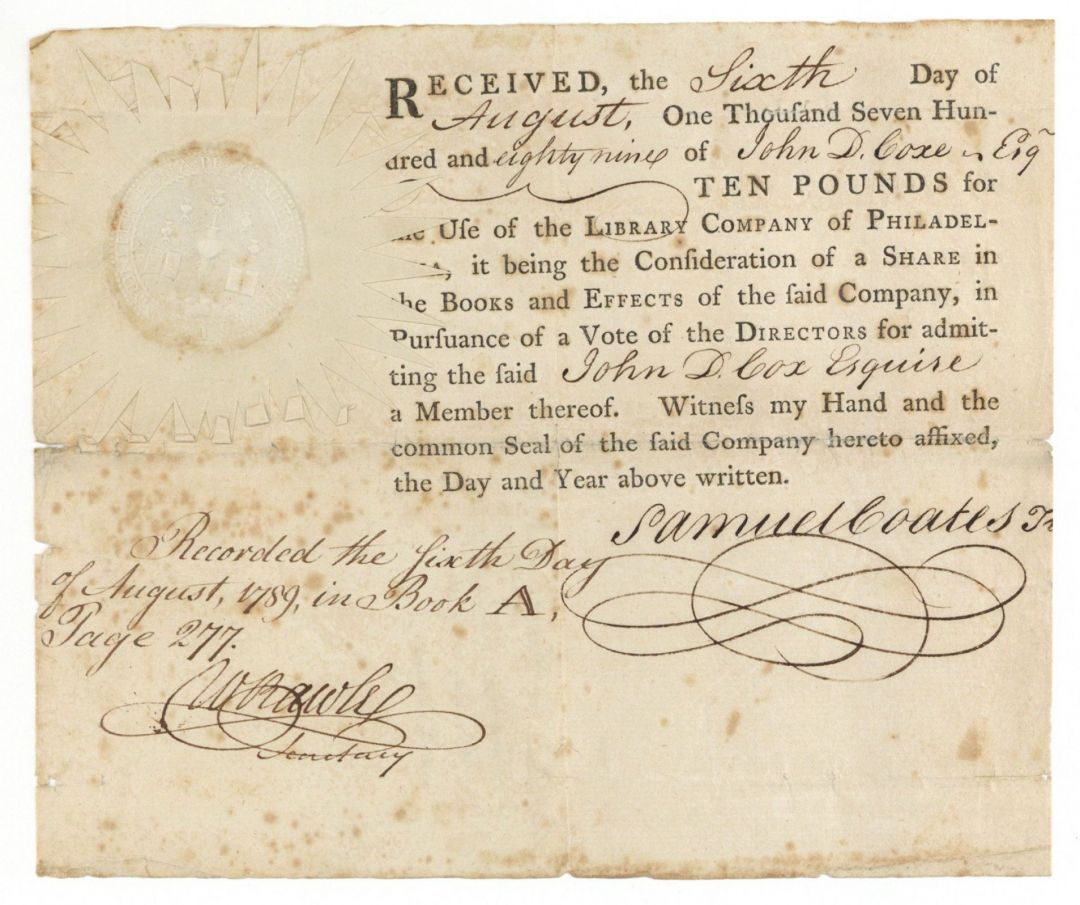 View Larger Image
State(s): Pennsylvania

Years: 1789
Samuel Coates signs this £10/1 Share early Stock certificate!
Samuel Coates was born on August 24, 1748 in Philadelphia, Pennsylvania, United States. He was of an old Quaker family descended from Thomas Coates who emigrated from England probably after the year 1680. His father, also Samuel Coates, died when Samuel, Jr. , was nine weeks old, and his mother, Mary Langdale Coates, allowed his uncle, John Reynell, to adopt him. He was an American merchant. He served as a President of the Board of Directors of the Pennsylvania Hospital from 1812 to 1825. He was a member of the Overseers of the Public Schools of Philadelphia and a director of the first Bank of the United States.
At nineteen Coates was put in charge of a small commercial business which he handled so well that at the end of three years it was terminated so that he might enter into partnership with his uncle as a member of the firm of Reynell & Coates. After the withdrawal of his uncle from active business life, Samuel Coates formed a partnership with his brother, Josiah Langdale Coates; but the brother withdrew to establish himself as a grocer, and after 1785 Samuel Coates was in business for himself. He prospered, but after he became interested in philanthropic enterprises he neglected his business and it dwindled away. When he finally paid all his debts and gave up his business he had but a small competence instead of a fortune. One of his chief interests was the Pennsylvania Hospital. He was elected a manager in 1785 and president of the board of directors in 1812. He gave forty-one years of unremitting attention to the affairs of this hospital and during the fearful yellow-fever epidemic of 1793 was one of the few citizens of means who remained in the city to gather together the forces with which to combat the scourge. His portrait, by Sully, is still in the possession of this institution. For a period almost as long, 1786-1823, he gave his services to the body entitled "The Overseers of the Public Schools, founded by charter in the town and county of Philadelphia, " which was the ruling authority managing what were called "the Quaker Schools. " In 1800 he was elected a director of the first Bank of the United States and was still a director at the time its affairs were wound up in 1812.
Condition: Excellent
Item ordered may not be exact piece shown. All original and authentic.