Ringling Bros. - Barnum & Bailey Combined Shows, Inc.
Inv# GS1570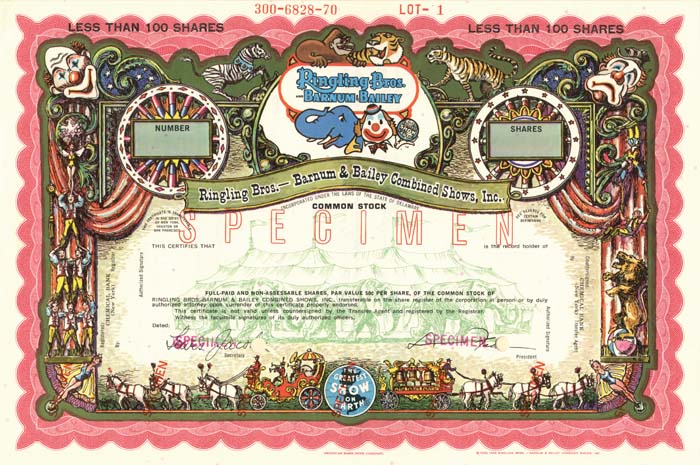 State(s): Delaware

Years: (1969-71)
Color: Red, Blue, or Green
Specimen Stock printed by American Bank Note Company. Ringling Bros. and Barnum & Bailey Circus was started when the circus created by James Anthony Bailey and P. T. Barnum, was merged with the Ringling Brothers Circus. The Ringling brothers purchased the Barnum & Bailey Circus in 1907, but ran the circuses separately until they were finally merged in 1919. Around the time of this stock certificate in 1967, Irvin and Israel Feld and Roy M. Hofheinz bought the circus from John Ringling North. Later in 1971 it was sold to Mattel. Then back to Irvin Feld from Mattel in 1982. This is the most colorful stock ever issued. Available in Red, Green and Blue. Please specify color.
Condition: Excellent
Item ordered may not be exact piece shown. All original and authentic.