Richmond Standard Steel Spike & Iron Company - Bond
Inv# GB5210
Bond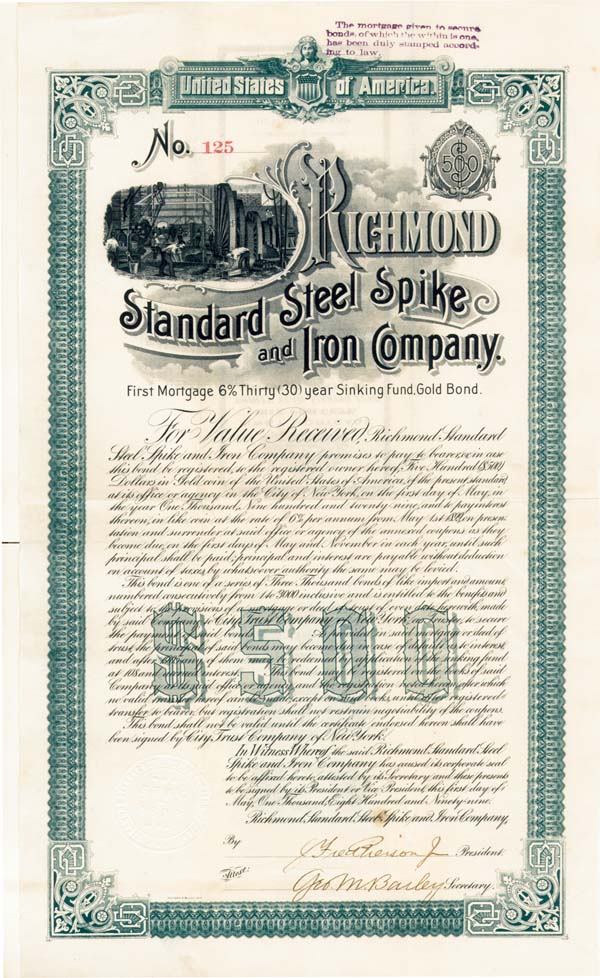 State(s): New York
Virginia

Years: 1899
$500 6% Uncancelled Gold Bond. Printer-Snyder & Black, NY. Three coupons remain unattached to bond. Only 1 available! Attractive! Iron Gate Rolling Mill, Iron Gate, Alleghany county. Built in 1890-1; 13 single and 4 double puddling furnaces, 4 forge fires, 1 double gas and 2 coal beating furnaces, 2 trains of rolls, (9 and 19-inch,) and 1 hammer; product, muck bar, merchant iron, and light iron and steel rails; annual capacity, 22,500 gross tons. Fuel, bituminous coal. Works now owned by Hyde Brothers & Co., Lewis Building, Pittsburgh, Pa. New company will probably be formed and works put in operation in the near future. (Formerly operated by the Richmond Standard Steel, Spike, and Iron Company.) Manchester Rolling Mill, Richmond Standard Steel, Spike, and Iron Company, Richmond. New York office, 20 Broad st. Works at Manchester, Chesterfield county, Virginia. Built in 1888-9 and put in operation in April, 1889; 1 double gas heating furnace, 2 forge fires, 3 automatic spike machines, 2 hand spike machines, and one 9-inch train of rolls; water-power; product, bar iron, used in the manufacture of railroad and boat spikes and harrow teeth; annual capacity, 7,200 gross tons. Fuel, bituminous coal. William L. Royall, President; Cor- bin Warwick, Vice-President and General Manager; Curtis Cauthorn, Secretary ; J. A. Simmons, Treasurer.
A bond is a document of title for a loan. Bonds are issued, not only by businesses, but also by national, state or city governments, or other public bodies, or sometimes by individuals. Bonds are a loan to the company or other body. They are normally repayable within a stated period of time. Bonds earn interest at a fixed rate, which must usually be paid by the undertaking regardless of its financial results. A bondholder is a creditor of the undertaking.
Item ordered may not be exact piece shown. All original and authentic.