Puget Sound and Alaska Steamship Co. issued to and signed by Charles B. Wright and T.F. Oakes - Stock Certificate
Inv# AG2138A
Stock
State(s): Washington

Years: 1890
Stock issued to and signed on back by Charles B. Wright. Also signed on back as witness by T. F. Oakes. Also signed by Colgate Hoyt as president. Rare!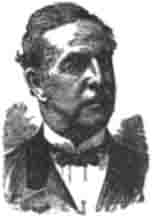 Charles Barstow Wright (January 8, 1822 – March 24, 1898) was a United States financier.
Wright was born in Bradford County, Pennsylvania on January 8, 1822. He started in business at 15, and at 19 was taken as a partner by his employer. In 1843 he received from the Towanda Bank a trust of landed interests in the then small town of Chicago, and in two years he not only fulfilled this mission successfully, but realized handsome profits in Chicago real estate for himself.
He married Cordelia Williams in 1848. In 1858, he remarried to Susan Townsend.
In 1863 he engaged actively in developing the petroleum interests of Pennsylvania. In 1870, as director and afterward as president, he undertook the work of pushing the Northern Pacific Railroad to completion. After the road had been built to the Missouri River, and eastward from the Pacific Ocean about 100 miles, Jay Cooke and Co., the fiscal agents, failed during the Panic of 1873, and the completed parts were not paying expenses. Wright afterward assisted in the reorganization by which the road was completed to Puget Sound.
Wright served as president of the Northern Pacific from 1875 until 1879, and was instrumental in deciding on Tacoma as its western terminus.
In 1873 he took an active part in founding the city of Tacoma, Washington. There he endowed the Annie Wright Seminary for girls (named for his daughter), and Washington College for boys, and was noted for his generosity to young men.
He died at his home in Philadelphia on March 24, 1898.
Charles Wright Academy in Tacoma was named in his honor, as was Tacoma's Wright Park Arboretum.
THOMAS FLETCHER OAKES, (1843-1919) railroad president, born in Boston, July 16, 1843, came from old New England stock. His father, Francis Garaux Oakes, was a shipmaster, and his grandfather, Daniel Oakes, a soldier of the American Revolution. Educated in Boston, and well trained for an active career, he secured a position as clerk to the contractors engaged in the construction of The Kansas Pacific Railroad, and in June, 1863, entered the service of this corporation as purchasing agent in St. Louis. Having won the confidence of the officers of the road by conspicuous energy and ability, they advanced him through the positions of assistant treasurer, general freight agent and vice president to that of general superintendent. During this period, his home was in St. Louis and Kansas City.
In April, 1879, he became general superintendent of The Kansas City, Fort Scott & Gulf, and The Kansas City, Lawrence & Southern Railroads, but was called in May, 1880, to the responsible post of vice-president and general manager of The Oregon Railway & Navigation Co., with headquarters in Portland Oregon. A year later, he identified himself with The Northern Pacific Railroad, was elected vice-president, and in November, 1883, general manager. In 1888, Mr. Oakes became president of The Northern Pacific Railroad, and continued as such until October, 1893 when having been made one of the receivers of the corporation, he retired from the presidency. His executive ability has been of great service to this important system.
Mr. Oakes is a hard worker and a thoroughly trained and competent railroad man. He is a trustee of The Manhattan Life Insurance Co. of this city. In 1864, he married Abby R., daughter of Henry Haskell, and their children are Grace, Zillah, Georgiana and Prescott Oakes. Mr. Oakes resides at Mamaroneck, but is a member of the Metropolitan, Union League, New York Yacht and Riding clubs, and a life member of The American Geographical Society.
George H. Earl was a secretary of many Northern Pacific railroads including Duluth, Crookston and Northern Railroad, Duluth and Manitoba Railroad, Fargo and Southwestern Railroad, Helena and Jefferson County Railroad, Helena and Red Mountain Railroad, James River Valley Railroad, Jamestown and Northern Railroad, Little Falls and Dakota Railroad, Northern Pacific, Fergus and Black Hills Railroad, Northern Pacfic, La Moure and Missouri River Railroad, Rocky Mountain Railroad of Montana, Sanborn, Cooperstown and Turtle Mountain Railroad, and the Spokane and Palouse Railway.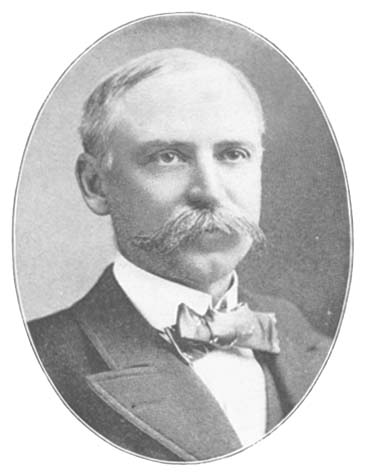 Colgate Hoyt (1849-1922), banker, born in Cleveland, Ohio, March 2, 1849, is a son of James M. Hoyt, a lawyer and man of high position. The young man attended Phillips Academy, Andover, but, owing to the failure of his sight, left school at the end of the first year. He then secured a place in a hardware store in Cleveland, rose by his own merit, and finally joined his father in real estate operations, becoming himself the owner of desirable properties. During 1877-81, he engaged in loans of money on real estate security. In May, 1881, he removed to New York City to become a partner in the banking and bullion firm of J. B. Colgate & Co. He made his way here with marked success and remained an active member until the death of Mr. Trevor, in 1890. Banking soon led him into intimate relations with large corporations. A government director of The Union Pacific Railroad, 1882-84, he was thereafter a company director but resigned several years later. In 1884, he joined Charles L. Colby and Edwin H. Abbott in The Wisconsin Central Railroad enterprise, these three men becoming trustees of the entire stock of the corporation, and building a road to St. Paul and one from near Milwaukee to Chicago, thus making The Wisconsin Central a through line from Chicago to St. Paul and Milwaukee. They also built The Chicago & Northern Pacific Railroad as a terminal, with splendid passenger stations in Chicago. Mr. Hoyt has also been a director and active spirit in The Oregon Railway & Navigation Co., The Northern Pacific Railroad, and The Oregon & Transcontinental Co., and in 1890 reorganized the latter as The North America Co., with entire success, and under trying circumstances. The American Steel Barge Co., whose shipyard and docks are at West Superior, Wisconsin, is the creation of Mr. Hoyt, who bought the whaleback patents of Capt. Alex. McDougall in 1888, organized the company with a capital $500,000, becoming its president and treasurer, and has since employed about 1,500 men and constructed about thirty whalebacks and other vessels of importance. Another of his enterprises is The Spanish-American Iron Co., of which he is an organizer and treasurer, which, with a capital of $5,000,000, is working the Lola group of iron mines in Cuba.
Mr. Hoyt was prominent socially, and was a member of the Metropolitan, Union League, Lawyers', Riding, Fencers', Country, Oyster Bay Yacht, Larchmont Yacht and Seawanhaka Corinthian Yacht clubs, and The Ohio Socity. In 1873, he married Lida W. Sherman, daughter of Judge Charles T. Sherman, and a niece of Gen. William T. Sherman. They have four children living.
Condition: Excellent
A stock certificate is issued by businesses, usually companies. A stock is part of the permanent finance of a business. Normally, they are never repaid, and the investor can recover his/her money only by selling to another investor. Most stocks, or also called shares, earn dividends, at the business's discretion, depending on how well it has traded. A stockholder or shareholder is a part-owner of the business that issued the stock certificates.
Item ordered may not be exact piece shown. All original and authentic.